The CUInsight Experience podcast: Jill Nowacki – Where are your socks? (#18)
"She who is truest to her authentic self, wins." - Jill Nowacki
Happy Mother's Day! In honor of the day, I have an incredibly special guest on the show: my favorite mom, my partner, and the person I get to explore the world with. Jill Nowacki was one of the first and most popular guests on the show, so I'm delighted to have her back for another conversation.
If you've listened to the podcast before, you've probably heard that many guests answer "mom" to the question of who comes to mind when they hear the word "success." Jill and I will dig into why this is the case, how much moms do for their families, and how much they often need to juggle and how much pressure they're under. A lot of this pressure comes from within themselves, Jill explains, but moms don't make it up and some of it relates to outside expectations.
From there, we'll shift into talking about moms in the workplace. Jill will share not only her own perspective as both a mom and a professional leader, but also her thoughts on how best to extend opportunities to moms at work without pressuring them. We'll take some time to chat about Jill's core values, and how she applies them both at work and in her role as a mom.
Other topics we'll explore include a personal mission statement (and how to create your own), finding balance and saying "no," striving to feel good about pursuing what lights you up, an amazing favorite experience that Jill has had with her son, and more. Don't miss this fantastic conversation with an incredible guest!
Subscribe on: Apple Podcasts, Spotify, Google Podcasts, Stitcher
How to find Jill:
Jill Nowacki, Mom. Partner. Whole Human. Pres/CEO of Humanidei.
jill@humanidei.com
Twitter | Linkedin
Show notes from this episode:
Check out all the amazing work Jill is doing at Humanidei.
Do more of what lights you up by listening to episode four of The CUInsight Experience (Jill's first appearance on the show) and episode 37 to bring your whole self.
Shout-out: Global Women's Leadership Network
Book mentioned: Dare to Lead by Brene Brown
Shout-out: Leo Ardine
Check this out on YouTube: Hell Yeah or No by Derek Sivers
Book mentioned: Becoming by Michelle Obama
Shout-out: Jill Tomalin for the introduction to Expedition Unknown with Josh Gates to our family.
Favorite children's book that makes Jill cry: Love You Forever by Robert Munsch
Jill is such a talent writer. I'm unofficially the president of her fan club. If you'd like to join the club, email me (ha). If you would like to check out her writing, you can find it here on CUInsight. She has more non-credit union writing on Medium and Elephant Journal.
Jill past appearance on the show: The CUInsight Experience podcast: Jill Nowacki – Do What Lights You Up (#4)
Find all past episodes of The CUInsight Experience here and you'll hear how many people mention their moms.
How could I not include a picture of us experiencing this beautiful world together?
In This Episode:
[00:03] – Randy welcomes listeners to a special Mother's Day episode of the show!
[02:37] – For listeners who need a refresher (or didn't hear her earlier episode), what does Jill mean by doing what lights you up?
[03:13] – Jill talks about whether what lights you up changes (or should change) when you become a mother.
[04:27] – When we become adults, we're often blown away by how much our moms have done for us, Jill points out.
[05:57] – Jill explains that moms put a lot of pressure on themselves, but don't make it up.
[08:13] – Are moms looked at differently once they come back to work? Jill answers, and offers advice on extending opportunities to moms at work.
[11:40] – We hear about some of Jill's core values, and how she came up with them.
[13:27] – Jill talks about how she integrates her core values into parenting as well as her professional life.
[15:15] – What core values that differ from her own does Jill see that other working moms have?
[16:50] – Jill talks about differences that she sees in her parenting when she finds herself living outside of her values.
[17:53] – We hear tips for listeners who might feel like they're unbalanced in life and are juggling too much.
[19:01] – Randy shares some of his and Jill's story for listeners who don't know the two of them personally. Jill then shares her personal mission statement.
[22:01] – Jill offers some advice for someone who wants to create their own personal mission statement.
[22:57] – Does Jill have final thoughts that she wants to share with working moms?
[24:43] – We hear about one of Jill's favorite experiences that she has had with her son, Crosby.
[25:52] – Is there something that Jill says to Crosby so often that he could finish her sentence?
[26:46] – If Jill and Crosby have a free day, what does it look like?
[27:44] – Does Jill have a favorite book that she read to Crosby when he was younger?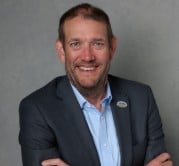 Randall Smith is the co-founder of CUInsight.com, the host of The CUInsight Experience podcast, and a bit of a wanderlust. As one of the co-founders of CUInsight.com he ...
Web: www.CUInsight.com
Details