The CUInsight Experience podcast: Mollie Bell – The winding road (#44)
"Go do the thing that makes you uncomfortable, go push yourself, go stretch yourself." - Mollie Bell
Welcome to episode 44 of The CUInsight Experience podcast. Hosted by Randy Smith, co-founder of CUInsight.com. Randy welcomes Mollie Bell to the show. Mollie is the Chief Development Officer at Ent Credit Union in Colorado Springs. Her peers know her as a person with a real passion for helping people reach their full potential. Many who know her say she's one of the most interesting people they know. I was looking forward to getting to know Mollie better.
Mollie took a winding road to the credit union industry. Still, she says that every position she had from law student to restaurant owner to teacher taught her something that she brings to her team every day. She believes that anything we do in our life experience helps us as we travel down our career path.
Randy and Mollie talk about what needs to change in credit unions to keep them relevant fundamentally, the culture of credit unions, and the Open Your Eyes campaign. She discusses why she took the position with Ent and what her inspiration was then and how it has changed in the year since she started there.
Mollie believes that her leadership style is an enthusiastic ideator and one exciting challenge after another, which is also how she views life. She believes that confidence in risk-taking is a trait that new leaders need to learn and that authenticity doesn't come without emotional intelligence. Mollie is a firm believer that culture is an umbrella strategy and needs to be well thought out and implemented.
If you are looking to be uplifted with knowledge, listen to this episode. Mollie is so upbeat about life in the credit union industry that she makes you want to go out to see if you can have as much joy in your career as she does. This is a fantastic conversation that you won't want to miss. Enjoy!
Subscribe on: Apple Podcasts, Spotify, Google Play, Stitcher 
How to find Mollie:
Mollie Bell, Chief Development Officer at ENT Credit Union
www.ent.com
mbell@ent.com
Twitter | LinkedIn 
Show notes from this episode:
See the amazing Mollie and the team at Ent Credit Union are up to here.
Mollie talked about taking the StrengthsFinder test. Find out more here.
Shout-out: Chad Graves, the CEO at Ent Credit Union
Shout-out: our friends at CUNA
Shout-out: to Tansley Stearns and Lauren Culp for the intel on Mollie.
Shout-out: Jim Nussle
Mollie was a teacher at CUNA Member Experience Sales and Service School
Shout-out: Our friends at CUNA Mutual Group where Mollie got her start in credit unions.
Shout-out: Credit Union Development Education – Are you a DE? You should be.
Mollie talked about the Open Your Eyes campaign and why she supports it.
Shout-out: Filene
Shout-out: John Carew
Have you taken The Myers & Briggs test? What are you? Take the test here.
Shout-out: Jill Nowacki and her company Humanidei
Shout-out: Chad Helminak
Awesome video from Accenture: Inclusion Starts with I (see below)
Song mentioned: Dixie Chicks – Wide Open Spaces
Album mentioned: 1984 by Van Halen
Book mentioned: Dare to Lead by Brene Brown
Shout-out: Greg Michlig
Previous guests mentioned in this episode: Lauren Culp, Jim Nussle, Jill Nowacki (episodes 4, 18 & 37), Tansley Stearns
You can find all past episodes of The CUInsight Experience here. 
In this episode:
[01:23] – Mollie, welcome to the show!
[02:37] – Mollie discusses her reaction to what people told Randy about her and her passion for lifting people up and encouraging them to reach their potential.
[03:14] – She talks about the StrengthsFinder 2.0 tool and her number one strength.
[04:19] – Mollie talks about the pleasure she gets from helping others reach their goals industry-wide.
[06:34] – Is giving young leaders a chance the way to get the best talent available?
[08:05] – Mollie says that her heart is in the credit union industry, and she can't see herself doing anything else.
[09:11] – She was a teacher at the CUNA member's experienced sales and service school, she talks about what she brought back.
[10:08] – Mollie chats about her journey to credit unions, she was in law school, a teacher, a consultant, and many more before she began her career with credit unions.
[12:37] – Law school gave her the critical thinking that she uses when she is working with her teams.
[14:39] – What do you think needs to change for credit unions to stay relevant fundamentally?
[15:29] – She discusses the credit union Open Your Eyes campaign.
[18:19] – Mollie took the position at ENT for three reasons, location, a credit union with resources, and she felt a connection with the team.
[20:02] – Has the inspiration changed at all in the year you've held the position?
[21:22] – She calls culture the umbrella strategy – She believes you have to have a very well thought out culture and make it tangible.
[23:24] – Mollie and her team describe her leadership style as an enthusiastic ideator.
[25:06] – She discusses the video Inclusion Starts With I.
[26:01] – What blew you away about your team when you walked in the door?
[27:02] – Feedback is a gift is something Mollie tells her team all the time.
[28:02] – Being confident at risk-taking is something she wants young leaders to learn.
[29:41] – Authenticity doesn't come without emotional intelligence is a phrase that she learned years ago, and it sticks with her today.
[31:03] – Her hack for when she hits a wall is talking to a trusted friend or her husband, someone who will tell her what she could have done differently.
[33:04] – She loves to walk or hike when she has a day off and looking at the mountains around Colorado.
[34:49] – What is the first memorable trouble you got into?
[34:56] – What is your something you do every day that if you didn't, your day would feel off?
[35:59] – 1984 by Van Halen is her favorite album and also the first concert she ever went to.
[37:41] – What is the book you gift over and over?
[39:12] – An understanding that life will unfold and it's ok is what's most important to her and what other people are thinking has become less important.
[40:39] – Her mom and dad are the people that come to mind when she thinks of the word success.
[42:04] – Mollie's final thought is to be vulnerable and be brave.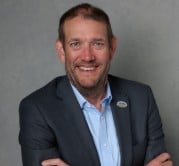 Randall Smith is the co-founder of CUInsight.com, the host of The CUInsight Experience podcast, and a bit of a wanderlust. As one of the co-founders of CUInsight.com he ...
Web: www.CUInsight.com
Details