The CUInsight Experience podcast: Tiffany Ford – Dynamic impact (#129)
"Willingness goes miles for me." - Tiffany Ford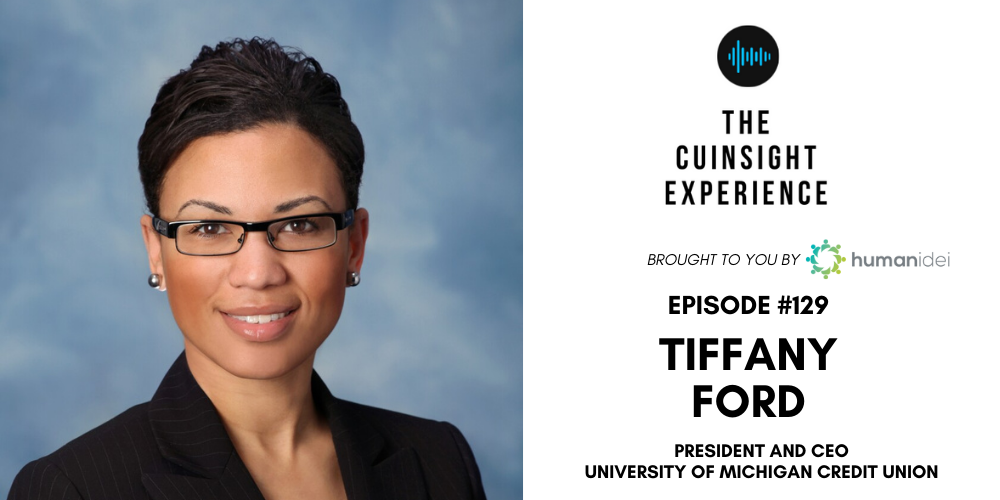 Thank you for tuning in to episode 129 of The CUInsight Experience podcast with your host, Randy Smith, co-founder of CUInsight.com. This episode is brought to you by Humanidei. Humanidei helps credit unions build inclusive cultures that attract, develop, and retain talent.
My guest on today's show is Tiffany Ford, President & CEO of the University of Michigan Credit Union. She talks about the career switch that brought her from public accounting to credit unions. Tiffany is the recipient of the 2018 Professional of the Year Award from the Michigan Credit Union League & Affiliates (MCUL). All her insights on leadership, team culture, and more are discussed in today's episode.
Tiffany focuses on the dynamic impact credit unions can have on the communities they serve. She shares her perspective, honing in on three attributes she looks for in a great teammate. She describes the ways she is both true to herself and the best version of herself, and explains the invaluable investment others have made in her along her journey to CEO. A solid team requires strong communication, like effective feedback that is a direct and collaborative dialogue. Tiffany gives her stories of what works for her and her team in terms of direct feedback, strong communication, and the one thing she doesn't want to hear in an interview.
Tiffany and I discuss the future of remote work and the ways to keep culture strong no matter where employees are located. We explore how credit unions can continue to evolve, especially in technology, while upholding the mission of serving the members. This conversation gives us the chance to discuss how to can create an atmosphere where your team is willing to take risks with you. Listen as Tiffany shares her advice for new leaders on taking risks, managing the board-CEO relationship, knowing when it's time to take vacation, and more.
Tiffany goes further in the conversation on the idea of cultivating work-life balance for her teams. She says that she starts with herself as an example, and reveals how her support systems inside and outside of her workplace play a role in reminding her of this balance. She returns that energy to those around her by identifying the potential in a person and giving back. Tune in for books she enjoys, her favorite artists, and more. Enjoy my conversation with Tiffany Ford!
Subscribe on: Apple Podcasts, Spotify, Stitcher 
Books mentioned on The CUInsight Experience podcast: Book List 
How to find Tiffany:
Tiffany Ford, President & CEO of the University of Michigan Credit Union 
tford@umcu.org
https://www.umcu.org/ 
LinkedIn | Instagram | Twitter
Show notes from this episode:
A big shout-out to our friends at Humanidei, an amazing sponsor of The CUInsight Experience podcast. Thank you!
Want to hear more from Tiffany? Click here.
Place mentioned: Michigan
Shout-out: Detroit Lions
Shout-out: University of Michigan
Shout-out: Cincinnati Bengals
Shout-out: Matthew Stafford
Shout-out: Eminem
Shout-out: Super Bowl LVI
Place mentioned: Detroit, MI
Shout-out: Michigan State University
Place mentioned: East Lansing, MI 
Shout-out: Michigan State University Federal Credit Union (MSUFCU)
Shout-out: Jeff Benson
Shout-out: CASE Credit Union
Shout-out: Patrick McPharlin
Shout-out: CUES Symposium
Shout-out: CUES
Shout-out: Warren Buffet
Shout-out: Dale Carnegie
Shout-out: April Clobes
Shout-out: Tiffany's pastors, Apostle Clarence Langston, Pastor Robyn Langston 
Shout-out: Tiffany's husband and family
Shout-out: Tiffany's board of directors
Shout-out: Candy Keene
Shout-out: Cisco Webex
Shout-out: Tiffany's entire team
Shout-out: Shipt
Shout-out: Amazon , Subscribe & Save
Shout-out: Zoom
Place mentioned: Maui, Hawaii
Shout-out: Tiffany's children
Artist mentioned: Prince
Artist mentioned: Michael Jackson
Artist mentioned: Guns N' Roses
Album mentioned: Purple Rain by Prince
Album mentioned: Off the Wall by Michael Jackson
Book mentioned: Stick Stand and Stay: A Guide to Coming through Any Storm by Clarence Langston
Book mentioned: Good to Great: Why Some Companies Make the Leap…and Others Don't by Jim Collins
Shout-out: John C. Maxwell
Shout-out: Whitney Anderson-Harrell
Previous guests mentioned in this episode: April Clobes
In This Episode:
[01:09] – Tiffany Ford recalls how a college connection helped her switch from public accounting to credit unions.
[02:50] – Tiffany shares why credit unions can benefit from focusing on dynamic impact.
[04:35] – Being true to yourself, along with a commitment to being your best self, leads to a flourishing career.
[07:30] – How does one create a strong network? Does this same approach work with building leadership teams?
[10:26] – Effective feedback is about direct and collaborative dialogue.
[12:06] – Tiffany shares her strategies for communicating with board members. How frequently does she suggest communicating?
[14:22] – What are Tiffany's thoughts on unifying teams for project decisions?
[16:59] – To be a great leader, you need to be challenging yourself.
[18:40] – What does working in credit unions look like in the future? What options can credit unions give to their teams?
[20:28] – Tiffany talks about maintaining company culture during remote work.
[22:13] – Why is "That's the way we've always done it" rendered useless by innovation? There are new ways to do things.
[24:52] – Tiffany gives credit to intentionality and her support system for helping her preserve her work-life balance.
[27:51] – How does Tiffany schedule her vacation time and downtime? What does she recommend to fellow CEOs for scheduling rest?
[30:35] – Tiffany defines her personal mission at this time in her life. 
[32:32] – Tiffany talks about Prince, Michael Jackson, and the books she loves.
[34:10] – Continue to learn and develop, while staying true to the mindset of serving others.
[35:54] – Thank you for listening, be well friends.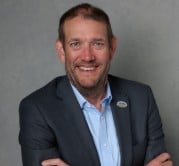 Randall Smith is the co-founder of CUInsight.com, the host of The CUInsight Experience podcast, and a bit of a wanderlust. As one of the co-founders of CUInsight.com he ...
Web: www.CUInsight.com
Details