The CUInsight Experience podcast: Todd Marksberry – Caring deeply (#118)
"We are in the business of winning with people." - Todd Marksberry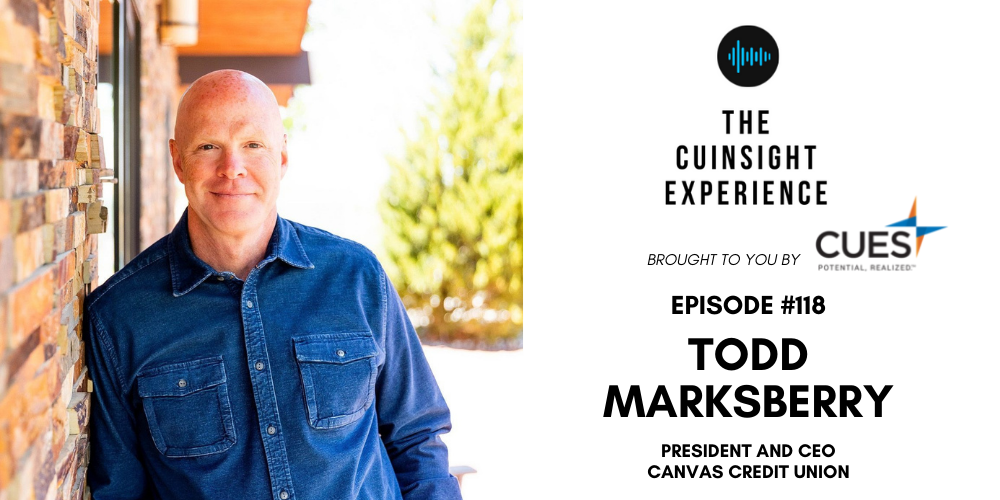 Thank you for tuning in to episode 118 of The CUInsight Experience podcast with your host, Randy Smith, co-founder of CUInsight.com. This episode is brought to you by our friends at CUES. CUES is the leading talent development solutions provider to the credit union industry.
My guest on today's show is Todd Marksberry, President & CEO of Canvas Credit Union. In this episode, Todd shares his career journey and his take on what true leadership looks like. We also chat about innovation in serving the community and the steps he took to achieve a healthy and safe culture within his team. 
As we open the show, Todd walks us through his journey of rebranding when initially taking the role of CEO. He discusses his approach to building a solid strategy and gaining buy-in from the board. He believes that with any successful rebrand, leaders should focus on improving culture and processes for both members and employees. 
Todd believes that maintaining balance in his life is what helps him think strategically. In the office or in his yard, Todd shares that he is able to create solutions and think critically often by completing everyday tasks. He accredits a large portion of the work Canvas has done for the community and the successful partnerships they have built to his team. Todd believes that building strong relationships and shared goals is what keeps him purpose-driven.   
As we wrap up the show, Todd encourages other leaders to remember all they have done to help members and share their stories. He believes this will help credit unions maintain their relevance in such a saturated financial services industry. During the rapid fire questions, we learned what Todd was like in high school and that he was able to travel all around the world before joining the credit union movement. Find what he did and so much more in my conversation with Todd Marksberry! 
Subscribe on: Apple Podcasts, Spotify, Google Play, Stitcher 
Books mentioned on The CUInsight Experience podcast: Book List 
How to find Todd:
Todd Marksberry, President & CEO of Canvas Credit Union
todd@canvas.org
https://www.canvas.org/
LinkedIn | Twitter | Instagram | Facebook | YouTube   
Show notes from this episode:
A big shout-out to our friends at CUES, an amazing sponsor of The CUInsight Experience podcast. Thank you!
After listening to our show, check out the CUES podcast here.
Check out all that Todd and his team are doing at Canvas Credit Union here.
Want to hear more from Todd? Take a listen to In the Room with Todd Marksberry here.
Place mentioned: Colorado
Shout-out: Tansley Stearns
Shout-out: Hamilton (musical)
Shout-out: Dave Moss (former CEO of Public Service CU, now Canvas CU)
Shout-out: CUNA GAC
Shout-out: Delta Community CU (DCCU)
Place mentioned: Fort Collins, Colorado
Place mentioned: Castle Rock, Colorado
Place mentioned: Colorado Springs, Colorado
Shout-out: John Deere
Shout-out: Jay Gratwick
Shout-out: Bill Mesplay
Shout-out: Mike London
Shout-out: Colleen Knoll
Place mentioned: Wyoming
Shout-out: NFL
Shout-out: Pittsburgh Steelers
Place mentioned: Miami, Florida
Shout-out: Miami Dolphins
Place mentioned: Wisconsin
Shout-out: Green Bay Packers
Band mentioned: Earth, Wind & Fire
Shout-out: Todd's family
Shout-out: Eastern Kentucky University
Shout-out: Tropical Telco CU (now Tropical Financial CU)
Shout-out: Greg Blount
Shout-out: Eastern Financial CU (now Space Coast CU)
Shout-out: James Schenck
Book mentioned: The Authoritarian Moment: How the Left Weaponized America's Institutions Against Dissent by Ben Shapiro
Book mentioned: Leadership Promises for Everyday: A Daily Devotional by John Maxwell
Music genre mentioned: Funk
Band mentioned: Tower of Power
Artist mentioned: Chaka Khan
Band mentioned: Journey
Band mentioned: Queen
Band mentioned: Styx
Band mentioned: Gang of Four
Band mentioned: Kansas
Band mentioned: Eagles
Previous guests mentioned in this episode: Tansley Stearns, James Schenck, Jill Nowacki (episodes 4, 18, 37, 64, 82, 101, & 113)
In This Episode:
[01:52] – What was Todd Marksberry's motivation for starting a podcast?
[04:28] – Todd discusses how Canvas Credit Union underwent huge transitions in branding.
[07:20] – Following a prominent figure in the credit union space, Todd reveals his feelings about fulfilling the role of a CEO and the relationship with the board.
[09:59] – What is Todd most excited for over the next 3-5 years?
[12:13] – Todd gives his tips on balance in life, and having time for strategic planning.
[14:27] – Todd expresses the difference in his team relationships as he transitioned to a higher level of leadership.
[16:23] – A strong executive team with core values and purposes are key to Todd's purpose-driven efforts.
[18:00] – Hear Todd's advice for making sure a team feels heard, and creating an environment where team members know they can actively participate in discussions.
[20:25] – Todd feels that the credit union space could benefit from storytelling to spread more awareness about the impactful work the industry does daily.
[22:52] – As a kid, Todd says he planned to be a professional football player or a lead singer.
[24:58] – Todd reminisces about his first credit union job, and explains why he caught his first boss' attention.
[26:38] – Todd shares that "The best is yet to come", and debunks the myth of the ruthless leadership.
[28:17] – Between music, running, and sports, Todd is enjoying life with his family and friends.
[29:48] – Todd talks through the decision of continuing work during the pandemic to take care of the team and the community.
[31:20] – What purchase brought joy to Todd's life lately? What was Todd like in high school? Todd mentions tractors, running track, and music.
[33:12] – Todd says he typically gifts this book on leadership, then mentions his top music picks.
[35:04] – Todd's father holds great influence in how Todd views leadership.
[37:19] – Thank you for listening, and be well friends!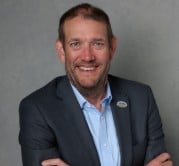 Randall Smith is the co-founder of CUInsight.com, the host of The CUInsight Experience podcast, and a bit of a wanderlust. As one of the co-founders of CUInsight.com he ...
Web: www.CUInsight.com
Details