The CUInsight Network podcast: Cannabis banking – Shield Compliance (#5)
Featuring Tony Repanich, President & COO of Shield Compliance
Thank you for tuning in to episode 5 of The CUInsight Network, with your host, Randy Smith, co-founder of CUInsight.com. In The CUInsight Network, we take a deeper dive with the thought leaders who support the credit union community. We discuss issues and challenges facing credit unions and identify best practices to learn and grow together.
Today, my guest is Tony Repanich, President & COO of Shield Compliance. Tony shares how he actually grew up wanting to be in the financial services industry. He also gives us insight on what credit unions must consider when providing support to cannabis businesses.
Tony discusses how Shield Compliance adds value to the industry by helping credit unions build efficient compliance procedures to serve legalized cannabis organizations. In our chat, Tony goes over the difficulties that credit unions might face when making the decision to serve the cannabis industry and what they can do to mitigate those risks. He expresses that the collaboration between technology and compliance makes onboarding less challenging.
In our conversation, Tony and I chat about how servicing legal cannabis companies can give credit unions a competitive edge over other financial institutions. We discuss the steps a credit union must take to be successful in serving this industry and the evolution of legalization.
From our rapid fire questions we learned that Tony's most recent purchase has changed the way he does virtual meetings entirely. In his free time, Tony likes to hop on his Peloton and jam out to his pop music playlist. As a Seattle native we were not surprised to find out who Tony thought of when he hears the word 'success'. Enjoy my conversation with Tony Repanich!
How to find Tony:
Tony Repanich, President & COO of Shield Compliance
tony@shieldbanking.com
www.shieldbanking.com
LinkedIn | Facebook
Show notes from this episode:
What an amazing interview with Tony, check out all the awesome work his team is doing over at Shield Compliance here.
Want to hear more from Tony? Click here.
Learn more about how changes in Washington affect the cannabis industry.
Learn more about how credit unions are serving the cannabis industry in Washington, Colorado, California, and Michigan.
Shout-out: Governor Gavin Newsom
Shout-out: Quickbooks
Shout-out: Howard Schultz
Shout-out: Starbucks
Shout-out: Peloton
Album mentioned: Adele 19 by Adele
Book mentioned: Nickel and Dimed: On (Not) Getting By In America by Barbara Ehrenreich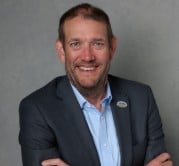 Randall Smith is the co-founder of CUInsight.com, the host of The CUInsight Experience podcast, and a bit of a wanderlust. As one of the co-founders of CUInsight.com he ...
Web: www.CUInsight.com
Details