The odd couple fighting against predatory payday lending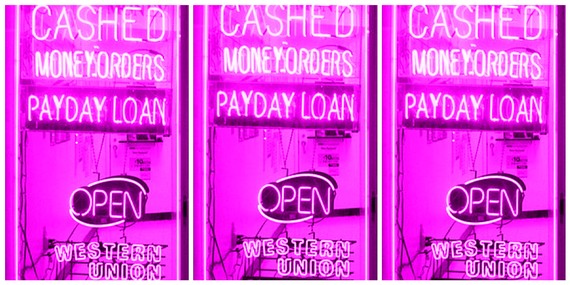 In South Dakota, a conservative pastor and an openly gay former Obama campaign staffer have teamed up to battle an exploitative industry.
by: Sean McElwee
One of the most important bipartisan reforms of recent years started with a Twitter fight. Steve Hickey, a pastor in Sioux Falls, South Dakota, sent a letter to the editor of the Argus Leader, denouncing gay marriage and homosexuality.* Steve Hildebrand, owner of a local coffee shop, took offense. "You are becoming a huge joke in this state—huge," he tweeted at the pastor. "We should have coffee," Hickey responded. "I love you, tolerate you, I don't support gay marriage." And Hildebrand took him up on the offer: "As long as you come with an open mind and an open heart and a willingness to listen to my point of view as I was BORN gay."
The two Steves sat down at Josiah's Coffee House and Café, the shop owned by Hildebrand. They make an odd couple. Hickey is pastor of the Church at the Gate and a conservative state legislator; Hildebrand was the deputy national campaign director for Obama's 2008 campaign. But they soon found they had something in common: concern over payday lending. Many of Hildebrand's employees had taken out payday loans, and Hildebrand often offered them zero-interest loans to help them escape. Hickey said people in his church had often faced the same struggle. He had similarly aided people trapped in the cycle of debt that payday lending creates.
Hickey had been introducing reform bills every legislative session since he had been in the legislature. "I've been here five years and I've offered something every year, but it has never gone anywhere, but I know from polls that voters want to vote these guys off the island," Hickey told me. At one point, payday-lending lobbyists told him they would be interested in working on legislation. They flew to South Dakota to prepare a 12-page bill. But when the bill reached the legislative committee, industry lobbyists opposed it. "They lobbied against the very bill that they wrote," Hildenbrand told me, describing the industry as "full of bullies and lies and cheats." Payday lending companies hired "the most powerful lobbyists walking the halls," which "really instilled fears in the eyes of these legislators," he said. "There's been efforts for several years now, and you can't even get a bill out of committee."
continue reading »