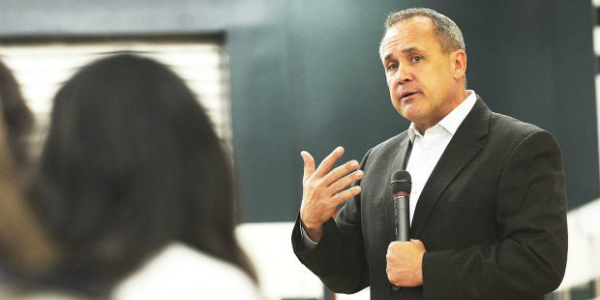 I'm excited and honored by the opportunity to join and lead the Credit Union National Association (CUNA) at this moment in the history of the credit union movement. Growing up in the Midwest and serving in Congress as a representative from Iowa, I came to admire credit unions for their focus in meeting local, community needs in ways few other organizations were able.
The movement I'm joining is a great one, organized by consumers more than 100 years ago. I understand that this year the 80th anniversary of the founding of CUNA. And this summer, as most of you know and I was excited to learn, credit unions surpassed 100 million memberships.
That's a big number in anyone's book, it certainly is for a guy from Iowa, and it's something we'll continue to promote and talk about as a way to describe the deep and broad connection the nation's credit unions have to their members and the country.
I have been learning a great deal about credit union issues from the first day I talked to the committee charged with the search for CUNA's next president and chief executive. Three priorities for CUNA are already strongly evident to me: protect the tax exemption; reduce the regulatory burden; and push forward with our shared vision that "Americans choose credit unions as their best financial partner." There will be much work, but the cause we are fighting for is the right one. It is still full-speed ahead at CUNA on these priorities and the specific issues related to them.
As the nation continues to recover from the financial crisis inflicted on it by the big-banks, it's clear to me that credit unions have done an outstanding job building a high degree of trust with their members. Credit unions protected their members' assets during the crunch, they kept credit available and continued lending to enable people to own homes, buy cars, open businesses and create jobs.
That leadership and careful stewardship of their members' financial health helped credit unions maintain and ultimately strengthen a high-level of confidence among their members.
Case in point: the American Customer Satisfaction Index (ACSI), the only national cross-industry measure of customer satisfaction in the United States, shows the credit union satisfaction score at 85, while the benchmark for banks is 78. That's quite a difference. In fact, credit unions have led banks in satisfaction since they were added to the index in 2008.
Another measure, the Chicago Booth/Kellogg School Financial Trust Index, reports that 60% of respondents said they find credit unions trustworthy, while only 30% of respondents said they trust big, national banks.
But that high-level of trust and confidence isn't new to me. As a member of Congress I came to appreciate the cooperative business model of credit unions. I understand the difference and the opportunity that it presents us for the future.
Another thing that attracted me to this job is our national footprint. Credit unions reach into all corners of our country. Red and blue states; urban, suburban, and rural communities; and the rich diversity of our consumer members makes the credit union movement a formidable political and business force.
The scope and reach of our movement – and the sheer size of 100 million memberships – is an incredibly powerful tool and one many, many other groups want but will never attain.
We're going to make more use of this tool – and others, such as the trustworthiness credit unions have earned from consumers – in helping to achieve our goals.
In early meetings with the CUNA board and staff I've emphasized my management philosophy: Listen, learn, help – and lead.
It's an approach to management that has served me well in my career.
I'll take same the approach in learning more about credit unions and as we work together to leverage the unity, strength of CUNA and the larger credit union movement.
Thank you for the opportunity to serve in this great movement with you.
Jim Nussle was named president and CEO of the Credit Union National Association in September 2014. Nussle, is a former eight-term congressman and director of the White House Office of ...
Web: www.cuna.org
Details