Top 5 mortgage compliance issues to address now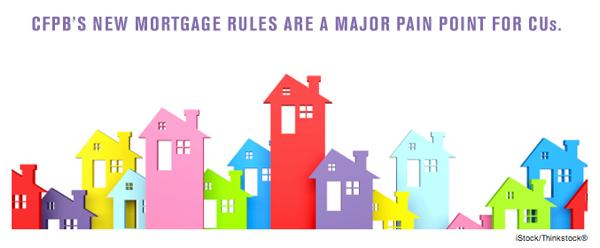 The changes to mortgage servicing are extensive.
With looming mandatory compliance dates of early- to mid-January 2014, one of credit unions' greatest pain points is implementing the Consumer Financial Protection Bureau's (CFPB) new mortgage rules.
To prepare, credit unions should address these five critical compliance issues now.
5. NMLSR IDs on documents
Pursuant to the Mortgage Loan Originator Rule, all covered loan applications, notes, and security instruments must reflect the Nationwide Mortgage Licensing System & Registry (NMLSR) ID of the mortgage loan originator as well as the loan originator organization.
This requirement applies to all closed-end loans secured by a dwelling. Therefore, your impacted portfolio includes first mortgages, home equity loans, as well as any consumer loans that may be secured with a dwelling.
Work with your documents provider to ensure these documents are updated.
4. Prepayment penalties
The new mortgage rules severely limit a credit union's ability to charge prepayment penalties, including early closure and termination fees, and reimbursement of non-bona fide third-party fees paid on a consumer's behalf.
Consider the following before charging pre-payment penalties:
Federal credit unions cannot charge pre-payment penalties;
If you originate qualified mortgages (QMs), prepayment penalties cannot exceed certain thresholds;
If you charge a prepayment penalty, the maximum charge assessed must be included in your points and fees calculation. This could result in the loan no longer being a QM and/or the loan being high-cost and susceptible to additional disclosure requirements, more restrictive loan terms, and restrictions on creditor practices under the Home Ownership and Equity Protection Act (HOEPA).
If you charge a prepayment penalty that exceeds certain thresholds or is charged more than 36 months after consummation or account opening, that loan becomes a high-cost loan subject to HOEPA.
3. Determine which mortgage servicing provisions require compliance
The changes to mortgage servicing are extensive—new practices and notices are now required for first mortgages, home equity loans and lines of credit, and consumer loans secured by a dwelling.
There are some exceptions for small servicers that service 5,000 or fewer loans that they or an affiliate originate or own. You must understand your relationships with credit union service organizations and subservicers to determine if you are a small servicer.
Even if you are a small servicer, you still must comply with many provisions under the servicing rule. Look closely at this rule to determine which provisions require your compliance.
continue reading »