Veteran Lobbyist Takes the Reins for Credit Unions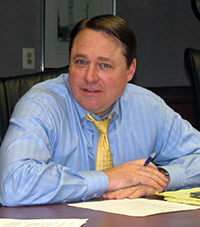 Credit unions have a new man in Washington.
By Megan R. Wilson
Prominent lobbyist Dan Berger will become the new chief of the National Association of Federal Credit Unions (NAFCU) on Thursday.
The group picked Berger to succeed its president and chief, Fred Becker, in January. In the announcement, the retiring Becker called him "the right choice at the right time."
Berger — who has worked in the government relations department for NAFCU for nearly seven years — said he feels "kind of like a horse with a bit in its mouth" as he gets ready for his new role.
Though Congress takes a break during August, Berger said his organization plans to be hard at work.
"August is a slow time?" he asked. "For who?"
Over the last several months, Berger has been involved with planning and strategy meetings to prepare for his transition. On his first official day as NAFCU's chief, he said there will be an all-staff meeting to "allow everybody the opportunity to reset." He'll outline priorities and expectations for the group, he said.
continue reading »