What not to say at the airport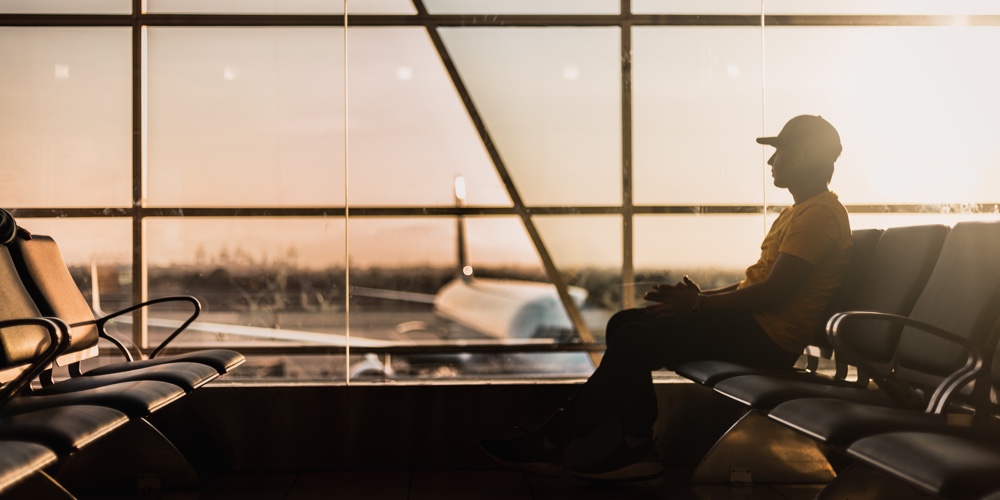 I've flown at least 250 times over the last decade. I love virtually everything about the experience: getting up early for an Oh-Dark:30am flight, the hustle and bustle of the airports, giving small kindnesses to a fellow sojourner and receiving theirs in return, the thrill of a new city, the joy of coming back to your own. 
I didn't realize how much I enjoyed air travel until the pandemic grounded me. Between April 2020 and May 2021, I'd been on a plane only once, a quick round trip to Idaho in November to interview Elizabeth once again for Side Effects. 
I was elated, therefore, when I had three consecutive weeks of flights on my calendar last month: Cancun with my wife Karla for our anniversary, San Francisco to film a project for a client, and Las Vegas to record a podcast interview. 
I thought my years of experience would quickly overcome whatever rust may have accumulated around my airport travel habits. 
This was a profoundly stupid assumption, as evidenced by these actual words that were said either by me or near me while trekking through air travel facilities which are – super fun fact to remember, boys and girls! – monitored by law enforcement professionals:
"You got all the drugs?"
I asked this of Karla as we shuffled through the Customs checkpoint in Atlanta International on our way back from Cancun. 
It's a common question for me to pose to her; she has about half a Kroger pharmacy flowing through her veins at any given moment because of her intense post-breast cancer oral chemo regimen. Misplacing a pill or missing a dose can cause serious problems. 
When the people around us heard my potentially felonious utterance, the intensity with which they stared at us could've been measured in megatons. 
"Well, —-!"
While I love pre-dawn flights, I have the IQ of a turnip until well after the sun rises. That deficit was on full display on my way out to San Francisco. 
My Southwest boarding time is 5:55am. My boarding position is A25. My departure gate is B22. I quickly clear security and wait patiently at the gate area. 
At 5:35am, I wonder why I don't hear my flight being called. 
You've probably already untangled the riddle because you're way smarter than Andy the Traveling Turnip. 
Yep, I'm at the wrong gate. I'm at A25. B22 is 10 minutes away. That's if I sprint, and middle-aged turnips – I cannot emphasize this enough – do not sprint. 
I heave myself out of the chair and let slip the off-color phrase above. I thought I'd said it quietly. I did not.
Unfortunately, this first line of my Getty-swear Address was plainly heard by an impossibly cute little girl carrying a Little Mermaid backpack. Ariel's eyes widen in shock before she runs back to her parents, yelling "Mommy! Daddy! That man said a bad word!" while pointing at me.
I yell "Sorry!" over my shoulder as I awkwardly power-walk away. I'm classy like that. 
"Yep, locked and loaded."
We're back in the ATL Customs line for this verbal gem. It was Karla's response to what some bystanders legitimately thought was my invitation to deal – and I'm quoting from the transcript now, Your Honor – "all the drugs." 
As her response hung in the air and mixed with the tension my question had caused, we knew we had to lighten the mood. Fast. 
What's the best way to do that in a tightly controlled, government-regulated facility, you ask? Laugh hysterically, of course! About the drug-adjacent joke you inadvertently made! And that offhanded reference to the military command to prepare a weapon for battle! WHILE IN THE US CUSTOMS AND BORDER PROTECTION QUEUE!! Good times!
Does this story have anything to do with credit unions? I don't know. I've slept only 2 hours in the last 24 because I got up at 3:17am to drop Karla off at the airport for her first solo flight of the year. I'm a little punchy. A little turnip-y, if you will. 
Maybe the point is to savor the places and people we took for granted in the last year. 
Honor every traveling mercy.
Guard your tongue when life is hard. 
Laugh at yourself often. 
Say "I love you" to those you cherish. Tell them at the airport, at home, and everywhere in between. Life is too short to leave those words unsaid. 
Time to wrap this up. Gotta talk to Karla, make sure she got to her hotel ok, check that she's got all the drugs. 
Lock and load, y'all.
Andy Janning is a popular keynote speaker at events across the country, a national award-winning expert in talent development, the host of NCUF's Herb Wegner Memorial Awards, and a ...
Web: https://www.andyjanningphoto.com
Details