Why Samsung Pay could gain an early lead in mobile payments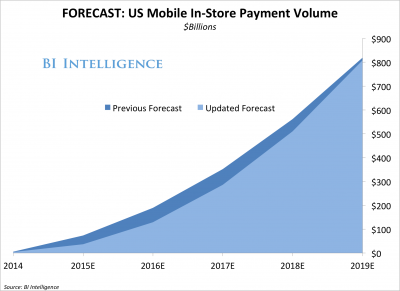 by: John Heggestuen
Samsung Pay, a forthcoming mobile payments feature for Samsung mobile devices, has a unique advantage that BI Intelligence thinks will help drive US mobile payments volume to over $800 billion by the end of 2019.
One of the biggest obstacles to mobile payments adoption in the US is that only a handful of retailers have the technology to accept mobile payments in stores. However, in early 2015 Samsung acquired a company called LoopPay which could potentially solve this problem.
LoopPay developed a technology called Magnetic Secure Transmission (MST) which will be integrated into new Samsung phones. The technology will allow mobile users to pass their phones over a typical credit card reader to make a payment. In addition, Samsung Pay users will also be able to pay by presenting a barcode to be scanned at checkout. That means that Samsung Pay will work at most existing payment terminals in the US — So someone who adopts Samsung Pay can begin to use it habitually right away.
continue reading »