Worldwide Membership Creates Unique Lending Challenges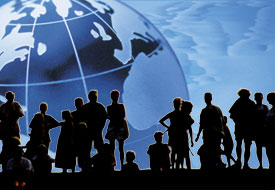 Strong common bond keeps delinquencies low despite geographical hurdles.
By Jim Jerving
United Nations Federal Credit Union in New York has a unique place in the credit union movement as an organization that serves members in more than 200 countries and territories with some 99,000 members.
One of the challenges of working with an international field of membership is that most borrowers lack a credit history, FICO score, or Social Security number. So the $3.7 billion asset credit union developed a proprietary country scoring system, says Sarah Klinger, assistant vice president, lending operations.
"Each country is scored based on risk and delinquency experience and the macro-economic outlook, including factors such as unemployment rate, gross domestic product growth, and currency volatility," she explains.
In 2011, United Nations Federal developed auto-decisioning for low-risk, high-volume products such as Visa credit cards and lines of credit. During that year, the credit union originated 1,959 consumer loans using auto-decisioning.
Loans are offered in U.S. dollars. If the currency in which the borrower is paid is significantly devalued, the member may be able to extend the loan term to decrease the monthly payment amount.
Last year, in response to a significant devaluation of the Kenyan Shilling, the credit union offered loan modifications to members paid in this currency.
Consumer loan growth has averaged close to 10% for the past three years at United Nations Federal, yet its consumer loan delinquency ratio has hovered around 1.2% to 1.3% during this time.
continue reading »