Yellen's efforts for greater clarity on Fed rates create confusion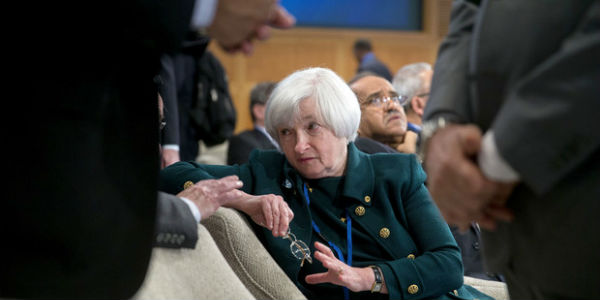 by. Jeff Kearns
Janet Yellen's effort to provide clarity on the outlook for the Federal Reserve's main interest rate by publishing policy makers' forecasts is instead creating confusion.
Fed officials released projections last month showing their benchmark interest rate rising faster than they previously estimated, pushing bond yields higher. Within an hour, Chair Yellen played down the projections and told investors to instead focus on the central bank's policy statement, which emphasized keeping the rate low.
Explaining the Fed's intentions will be crucial as an improving economy brings it closer to raising the rate for the first time since 2006. Further mixed signals risk a surge in bond-market volatility as policy makers begin what will be "an extraordinarily complicated tightening cycle," said Drew Matus, a former markets analyst at the Federal Reserve Bank of New York.
"The Fed's communications challenges have gotten worse over time as they've tried to become more transparent," said Matus, New York-based deputy chief U.S. economist at UBS AG. "There's a problem with being transparent but not being clear, and the Fed has been remarkably unclear."
continue reading »