Yellen's Fed to stick with tougher rules for big banks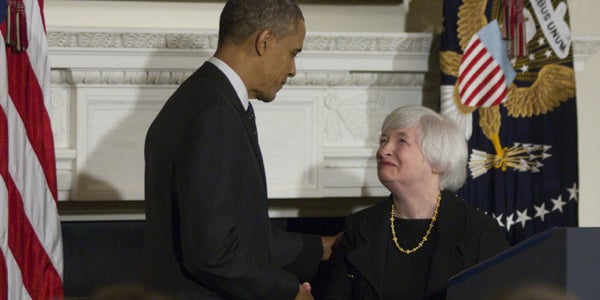 As Federal Reserve vice chairman, Janet Yellen played a supportive role in the biggest overhaul of financial regulation since the 1930s. As chairman, she will lead the drive for those policies while monitoring their costs for borrowers and banks.
Since Congress passed the Dodd-Frank Act in July 2010, the Fed has pursued a mission of boosting capital and liquidity standards for the largest, riskiest banks to make them more resilient against economic shocks and less reliant on taxpayer bailouts if they do collapse. Yellen, 67, became vice chairman in October that year and has supported the central bank's initiatives.
"The Fed has got a course in play; she's participated in those discussions, she's voted for them, so I can't see any major changes," said Ernie Patrikis, a former general counsel at theFederal Reserve Bank of New York and now a partner at White & Case LLP in New York. "To stand up and say we should back off — I just can't see that happening."
President Barack Obama nominated Yellen yesterday to succeed Ben S. Bernanke, 59, when his term expires Jan. 31. She mentioned a "strong and stable financial system" as another goal Congress entrusted to the Fed during her acceptance speech at the nomination ceremony.
While estimating economic and social cost is a routine part of the central bank's analysis in financial rule-making, Yellen's policy approach probably will give it greater emphasis, said Karen Shaw Petrou, managing partner at Federal Financial Analytics Inc., a Washington regulatory research firm whose clients include the world's largest banks.
continue reading »