4 quick social media wins
It's hard to believe but Q1 2022 is already behind us and we're blazing forward at full speed into Q2! The start of a new quarter is often a good time to check in on your social media channels and see what's working and what's not. As you're reviewing these channels and your social media strategy, here are four things to check in on and adjust if needed!
Check on the content and tone of voice for each platform. Are they aligned?
Creating content themes for each channel is a game-changer and it's a quick win! Your Instagram content should be very different from your LinkedIn content most of the time. Your Instagram or Facebook content should be engaging and fun content that excites or inspires people as they're scrolling through their feeds. You want to add to the experience in a positive way and not distract from it with serious content. Share stimulating graphics with helpful information. On Instagram especially, the graphic is the first thing to catch the user's attention so make sure it's good! LinkedIn is a platform for professionals and in most cases, it is peer-facing. Most often, you're not speaking to members of your credit union, rather you're speaking to others in the industry. This is a great way to highlight the new technology you're rolling out, great member stories, how you're supporting your communities, and more! You are marketing your professional business brand; not your latest marketing promotions. Keep in mind that other credit union professionals and your employees will see and engage with this channel so your content really should be all about you and what your overall business is doing. Keep these content themes in mind as you build out the social content for all of your channels and stay consistent with it.
Look at your KPIs. Are they helping you or giving you more work? 
Sometimes when we're setting up measurable goals and think we know what we want to measure, we realize the data is just that, it's data. If that data isn't helping you make any strategic decisions, it's time to reassess. For example, you might be measuring the reach of your posts (i.e., how many people saw your posts) but is that actionable data? Maybe, maybe not. If it's not, remove that data from the list of things to analyze and focus on something else. Also, as you're setting up your KPIs make sure they complement one another. If you are measuring engagement then focus specifically on likes, comments, retweets, mentions, shares, etc. All of these indicate that your content was engaged with and even more important, people stopped their scroll to give you a thumbs up because they liked it!
Review the platforms you're on. Are they worth it?
As you're reviewing the analytics of each platform, ask yourself if the results are worth the efforts. In my opinion, a strong social media strategy should focus on quality over quantity. Make sure you define the value that you're going to add to this platform before you set up your profile. And don't only think of the value, make sure you're going to have the bandwidth to create and produce the content needed. If there's a shred of doubt, don't do it. It's ok! You don't have to be everywhere but you do have to show up strong where you are.
Video – are you ready for it?
It's certainly no secret that video is the most engaging content to be shared on social media. It's fun, visually stimulating, and allows you to share a lengthy message quickly! As you build out your video content plan don't expect perfection. Just expect to deliver helpful content in an engaging way. Ease into it by creating a weekly video post. Maybe a Tip Tuesday or a Financial Fitness Friday clip. This ensures you're sharing content that you already have knowledge of and can chat comfortably about. As you build out your video content, make sure you make it inclusive. Adding captions is nearly effortless and there are lots of programs to load your video into to get them added.
One last quick note: the most important thing to consider when looking at your social media channels and content is to ask yourself if you're being authentic. Is it clear there is a human behind this content? Even a quick post saying, "Hey this is your friendly reminder that we're here for you if need anything." Remind your audience that a credit union is a safe place for them to talk about finances without fear of judgment. Content that shows you care will go a long, long way.  Hopefully, these tips will help you keep your social media channels gaining momentum, share your credit union's brand, and help you work smarter not harder on the social media content.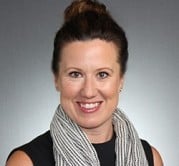 Jen McFadden is the Director of Marketing at CUInsight.com. She crafts CUInsight's marketing strategy and oversees brand identity, campaigns, and other marketing efforts. She began her credit union ...
Web: https://www.cuinsight.com
Details