Activating Maslow's Hierarchy in the people pandemic through vulnerable collaboration
We are living and trying to survive during a true PEOPLE PANDEMIC. Coronavirus isn't just a virus or health issue; it is a time of total disruption and uncertainty for everyone, locally and globally. Life has transitioned back to our core needs – hygiene, food, and shelter among the most basic. And we've learned that something as common as a roll of toilet paper can become a "hot commodity." It's during these times that we intuitively reach out to help.
During the Underground Collision at the Hay Adams in Washington, DC, we challenged the thought leaders in the room to employ Maslow's Hierarchy of Needs to cultivate ideas for better connecting their membership (both current and future) to the credit union movement in a real and personal way. We didn't realize that just a couple weeks later, the coronavirus pandemic would have such an impact on humanity – each person we serve and us!
As we work our way through this crisis, we know people who were once secure are now fighting for their lives. Consider all the changes we've experienced over the past eight weeks. Hundreds of thousands of people are sick or in need of critical care. Nonessential businesses are closed, leaving thousands of family providers without jobs. We must physically distance ourselves from family and friends, which is isolating and lonely – almost too much for some. All schools are closed, causing students and teachers to engage in online learning (some for the first time), graduations canceled, and sporting events suspended or canceled. Zoom is now our lifeline for everyday interactions with others. In the era of the coronavirus, front-line and first responders include those who provide us with food, medicine and water for simple survival.
Unfortunately, the grimness of our situation doesn't stop there. Currently, 75% of Americans have less than $400 in savings, and more than 22 million Americans have filed for unemployment. Families are struggling to put food on the table. Add that to the fact that many more people are required to work from home, limiting their ability to maintain a proper work-life balance. The uncertainty of all that's happening and not happening around us has led many to increased anxiety and other mental illness issues.
These are extraordinary times. Credit unions all over the country have scrambled to provide Americans with the essential financial services needed to survive. Most have digitally transformed their organizations and workforce to meet the ever-changing needs of members. And above all else, credit union employees are being asked to risk their safety as front-line, essential service providers.
As we move forward, we must ensure we learn from these experiences, make adjustments where needed, and continue to plan for the future. Our focus must continue to be on meeting member needs, and that's where we need to adapt, not just in light of the coronavirus, but for the prosperity of all.
Maslow's Hierarchy of Needs and Credit Unions
Most credit unions likely have "meet member needs" in some form within your mission or vision statement. By and large, credit unions are focused on helping meet the general financial needs of members, but we believe we need to dig deeper. When we consider members' needs, especially in light of our current circumstances, we're referencing Maslow's Hierarchy of Needs.
Have you ever asked yourself, "How is our credit union meeting the most basic human needs for our members and employees?" Take for example, shelter. Start with your employees. Do they have shelter that is safe? Consider your members and take interest in their life situation. There are ways to help with grants, Personal Protection Equipment (PPE), and other resources to support them during this time of real disruption.
Our conversation on meeting basic human needs has become more relevant in light of our current circumstances with the coronavirus. Consider how you're now reaching out to help members deal with the effects of this pandemic. What lessons are you learning today that you can apply to future action plans for other causes and concerns?
To respond with empathy to the basic needs of your members takes preparation, insight and collaboration with others. Our goal is to help credit unions recognize that while we cannot be all things to all people, we can be unique for those who need us the most – and that matters more than anything else we do.
This is the essence of vulnerable collaboration, which we'll dive more deeply into next time. Think about what that might mean for you, because, if there's any light in this tunnel, it's that the coronavirus has been a great equalizer among us as we all scrimp for many of the same basic necessities. Getting a handle on those feelings and needs collectively and individually will help us all out of the tunnel.
Defining Vulnerable Collaboration for Credit Unions to Meet Human Needs
Crisis is the mother of invention. We must get creative to meet the needs of members and employees. This is where we see the power of credit unions' collaborative, not-for-profit nature – the original social network. We can be collaborative, but what is this concept of vulnerable collaboration? As I wrote in my last post, to varying degrees, the coronavirus has been a great equalizer among humans. And, when you engage in vulnerable collaboration, you create deeper connections with others that can lead to increased productivity and cohesiveness among collaborators, be they colleagues or family.
VULNERABLE COLLABORATION
So, let's take the example of providing shelter for all in your community. The task may seem overwhelming, but there's always somewhere to start. Maybe you begin with a gritty, RAW discussion within your team, share your concerns, and ask people to be open and honest about their experiences or people they know. You may uncover problems that you didn't realize are occurring among the people you work with every day, and you may want to address those first. Then look outward. Is there a community organization or church you can collaborate with to provide resources, including financial counseling?
You may fail or get knocked around a little by your board, members, or even colleagues in your efforts, but when you're focused on meeting basic human needs, you cannot fail. And the collaborative relationships you've built will allow you to respond faster to crises and fulfill member needs right when they need it. Consider these examples of vulnerable collaboration in action during the pandemic:
Vancity Credit Union set up a Unity Term Deposit™ program, which takes savings invested by members and turns them into loans to support people and businesses struggling due to coronavirus. Additionally, they joined forces with other groups to develop a Community Response Fund (committing more than $1 million to the more than $3 million fund) to deploy essential relief to those needing help in their community.
The Michigan Credit Union League and member credit unions implemented a series of radio and TV ads, as well as digital media, designed to reinforce the credit union philosophy of people helping people, and promoting the unique help credit unions can provide during the coronavirus pandemic.
Ultimately, your goal is to help members move up Maslow's Hierarchy of Needs, to become self-actualized. What is it you need to consider as you look at your credit union's relationship to Maslow's Hierarchy of Needs with your employees and members in mind? Here are some ideas from thought leaders at our recent Underground Collision discussion:
Level #1: Physiological Needs
Collaborate with community organizations and churches, to build trust and provide resources, including financial counseling.
Serve as a resource to organizations that provide support to those seeking jobs, food banks, and other groups.
Work with local builders and government organizations to build and finance affordable housing. (Did you know 552,830 Americans experienced homelessness on a single night in 2018? That's 1 out of every 10,000 Americans!)
Dedicate a significant amount of money to help people who need a second chance or are underserved. Limit your risk and maximize your reach, such as offering $500 loans.
Tell your credit union's story on social media and other media outlets to generate greater awareness and understanding of your credit union and our industry in general.
Level #2: Safety Needs
Support community prevention and response training, including gun safety training, domestic violence and social disaster preparation.
Expand your post-event employee assistance program to members and actively provide member security training (including tech security and active shooter training).
Analyze member data to see when credit migration indicates an anomaly or issue and proactively find ways to support the member (especially as it may relate to mental health).
Recognize that mental health and its impact on members' finances can be life-changing; therefore, provide resources (including financial counseling) to mental health facilities and causes.
Support the mental health needs of your employees, especially in light of the recent pandemic. (Did you know that before the coronavirus, nearly 1 in 5 adults reported having mental illness over the past year? Sadly, that number is expected to increase in 2020. Most recently, 45% of adults in the United States reported that their mental health had been negatively affect due to worry and stress over coronavirus.)
Align your credit union with post-event support movements, like #VegasStrong following the mass shooting.
Create a publicly accessible community check-in board, digital and physical so that members can check in on family and friends.
Level #3: Love & Belonging
Encourage employees to pursue professional development and issues they care about in the community.
Become an entrenched part of the community, supporting what locals care about.
Train intensely on member care – make it a part of the fabric of your very being.
Build a brand based on trust, integrity and purpose. (Did you know that 91% of financial service consumers will change brands to one that is purpose-driven with similar price and quality?)
Implement a DEI program to align board, executive, and staff diversity to your field of membership for more significant impact and authentic growth. Download the Underground DIVERSITY WORKBOOK to get started.
Serve more than the traditionally underserved markets. Reach out to all people of color, women, the LGBTQ+ population and young or emerging leaders to demonstrate a commitment to their socio-economic advancement. (Did you know the Latino market has a reach of more than 40 million that are vastly untapped, or that 73% of the LGBTQ population live in states that don't prohibit credit discrimination based on sexual orientation or gender identity?)
Levels 4 & 5: Esteem & Self-Actualization
Serve as a resource to other organizations and businesses, and collaborate for greater reach, potentially organizing a network you host.
Be a pillar of the community, supporting the organizations your field of membership cares about most and networking to build trust, comfort, and awareness of your brand.
Promote "memberization" by buying a bank – you'll expand market reach, increase business services and invite all to participate in the credit union difference. (Did you know that buying a bank may be easier than merging with one?)
Your ultimate goal is to elevate members and employees through Maslow's Hierarchy of Needs to achieve self-actualization. That's where real member growth, loyalty and gratification live.
As we navigate uncharted waters, through vulnerable collaboration, we continue to learn what matters most to our members. Take careful note of these needs to demonstrate that you are listening and supporting the causes and concerns they care about. We must provide solutions to members' financial and human needs, which means we may need to move faster and take more risks. It's more than just being a fast follower – vulnerable collaboration is about listening with empathy and being aggressively optimistic and prepared to take action.
It's time to #STANDUP and make a difference!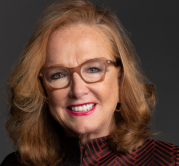 Susan Mitchell is a passionate believer in making a difference! As the CEO of Mitchell, Stankovic & Associates, a consulting firm that has provided over 5,000 credit unions innovative ...
Web: www.mitchellstankovic.com
Details