An all-encompassing appreciation for credit unions at NAFCU's 2022 Congressional Caucus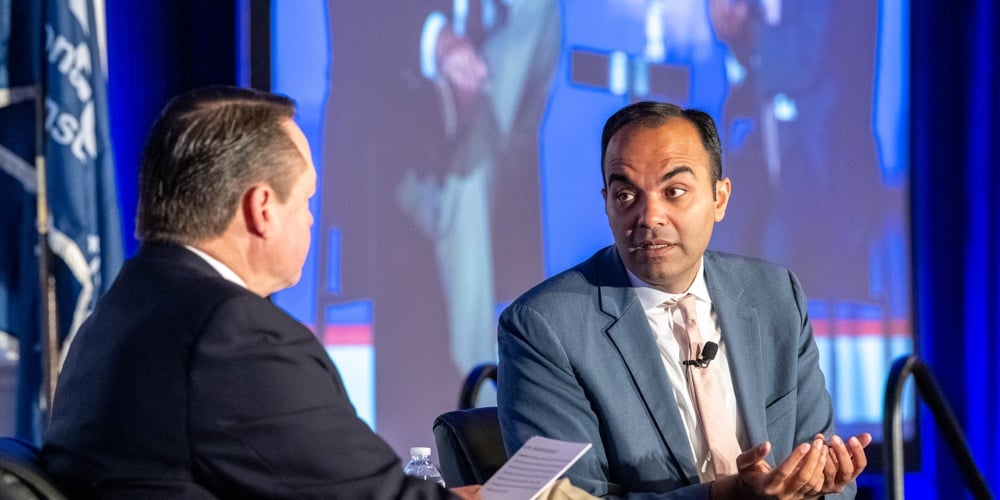 NAFCU held its 2022 Congressional Caucus in Washington, D.C., last week, and it emerged a massive success. I am deeply appreciative for the speakers and attendees for taking time out of their busy schedules to come and discuss all topics related to the credit union industry, and to the NAFCU staff for working so hard to run the event seamlessly and efficiently for our credit union members.
We had a stacked lineup this year, including many Congressional, regulatory, and industry leaders who shared their appreciation for, and noted the importance of, the credit union industry. Speakers included former New Jersey Governor Chris Christie, CFPB Director Rohit Chopra, and multiple members of Congress including Senate Banking Committee Chairman Sherrod Brown, and House Financial Services Ranking Member Representative Patrick McHenry.
As I listened to each speaker, I noticed that they all had nothing but positive words to say about credit unions.
During his remarks, Chairman Brown exclaimed that he loves the way credit unions "look out for the public interest, better than anyone else in the financial services industry."
In a discussion with Ranking Member Patrick McHenry, the Congressman said one of his top priorities is to provide increased opportunities for credit unions to take risks to better serve the needs of those in our communities.
NCUA Chairman Todd Harper highlighted that the health of the credit union industry remains strong, and NCUA Board Member Hood alluded to credit unions as "the port in the storm for folks," praising those in attendance for the exponential growth he has seen within the industry, which now serves 133 million Americans.
Whether it was one of the nearly two-dozen leaders who addressed attendees, or during the more than 200 personal meetings with lawmakers and policy makers that NAFCU organized for members, one message was clear: continue to raise the credit union voice in Washington, D.C. No matter the issue being discussed, or the policy being debated, policymakers in Washington want to hear from you.
As our award-winning advocacy team continues the battle against the misguided Credit Card Competition Act, or fights to ensure credit unions aren't unfairly crushed under Regulation E, here at NAFCU, we know the best messenger with policymakers in Washington is the credit union who is out there every day trying to meet the needs of their members.
Credit unions across the country are encouraged to share a statement that we can send to policymakers and visit NAFCU's Grassroots Action Center for direct access to your members of Congress. It is our job to elevate your voice, and we love doing it!
Credit unions fight hard for their members, and after engaging with the speakers and attendees at this year's Congressional Caucus, I am more grateful than ever to be able to represent and defend all the hard work credit unions do for their communities. At NAFCU, we are here to serve the industry in any way possible and we couldn't be more excited about the future.
B. Dan Berger became NAFCU president and CEO on Aug. 1, 2013. He joined NAFCU in January 2006 as senior vice president of government affairs overseeing five divisions including legislative ...
Web: www.nafcu.org
Details