How FI usage has shifted since the start of the pandemic
Physically going to the bank or credit union and standing in line to make transactions became almost impossible during many periods of the COVID-19 pandemic. Even when in-person services resumed, many members were hesitant to be in close proximity with others, touch deposit slips or have in-person conversations about financial needs.
Throughout it all, financial institutions found ways to adapt to changing needs and economic conditions to best serve their members. The world as we knew it basically halted on its axis, but that didn't stop the bills from rolling in.
Now, many of us are cautiously considering a world where we are more prepared to tackle COVID-19 and people are adapting to the changes the pandemic accelerated. We'll share data on how our relationships with FIs changed over the past two years, and what that means for credit unions now.
Shifting to Digital Usage
Consumers have shifted from traditional banking and are moving into a more digital landscape. With cash becoming somewhat obsolete for younger people, digital banking has risen exponentially in popularity. This is no surprise — digital banking has been popular years before the pandemic — but adoption really accelerated over the past couple of years.
Being able to deposit checks from a mobile device has been more than helpful during quarantine. Out of people surveyed during the pandemic, 37% opened new bank accounts, with 18% opening accounts with strictly online direct banks.
This shift in behavior has significantly impacted credit unions and other financial institutions and has encouraged them to adapt to members' needs. Now is the time to maximize digital banking services and make sure they are in line with what your members need from you.
Changing Social Expectations
Banks and credit unions have done a fairly good job of adjusting so far. Many are upping their game with their online capabilities and digitally offering more services for their account holders. They most definitely felt the pressure of their customers' growing expectations.
However, it's not just logistics that matter. The pandemic created economic uncertainty that encouraged many community members to step up donations, volunteering and support if they were able. Furthermore, the pandemic also coincided with a nationwide push for civil rights and social justice, and as younger people enter the workforce, they carry these expectations into their new jobs and service relationships, too.
According to survey data, over 50% of respondents are looking to build relationships with credit unions and banking institutions that actively support their communities. Customers are more interested in how their banking institutions do good for society — and are turned off if they feel credit unions are instead choosing to maximize profits.
Support can help a lot here. Banks are being encouraged to empathize with their consumers while assisting in future financial decisions. They are being encouraged to offer customer remediation services and temporary relief from payments with no penalty for 30-90 days.
Customer perception and commitment to the community also come into play. Credit unions are already plugged into community needs, and many are leaning into proactive outreach and finding new ways to involve locals, donate to charities and inspire social responsibility initiatives.
More Vulnerability to Cyber Crimes
To say this pandemic has initiated a heightened level of anxiety in society would be an understatement. Isolation alone can invoke boredom and mischief among those prone to running scams.
Unfortunately, older adults are the perfect prey for hackers and scammers alike. Most older people have physically traveled to banks throughout their lives, and it can be challenging to adjust to a whole new way of banking.
Thankfully, e-learning classes were created to help older adults (or anyone) learn the correct way to bank digitally. The OATS (Older Adults Technology Services) program is especially beneficial to people who are socially distanced or don't have friends or family to show them the ropes. As the pandemic progressed and open branches diminished, customers had to learn and adapt as needed.
Boom in Demand For Real Estate
Finally, while last year's hot real estate market may have cooled, the accelerated demand for homes and this year's high rental prices show how financial institutions can step up for consumers in need of quick, helpful service.
Real estate has played a vital role in the economy's recovery from the pandemic. The volume and demand for lending for mortgage purposes have rapidly increased. A Housing Wire analyst believes that the sweet spot for the housing demographic will be the next two years. The real estate economy keeps progressing forward and we are in the best demographic patch in history.
With interest rates rising, housing inventory is improving but is still below where they were before the pandemic. Home sales are predicted to decline from 6 million in 2021 to 5.99 million in 2022. The price of lumber finally dropping a little will assist in other rising costs, making room for potential marginal profit improvement. So, the housing market is predicted to move from "super hot" to "warm" in the coming year.
Members Are Changing Their Behavior — And So Can We
Financial advisors and banking professionals aim to improve their services and provide their customers with robust, established relationships. They value their customers and their needs during these troubled times. Putting their customers first has always been the end goal for banking institutions. As FIs empathize with their patrons, their relationships will grow and evolve accordingly.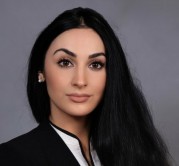 Evelyn Long is a writer and the editor in chief of Renovated. Her work has been published by the National Association of REALTORS®, Training Journal and other online publications.
Web: https://renovated.com
Details