Do you have Amazon Prime? An estimated 126 million US citizens subscribe to it, so I'm betting you do. Since movie theaters are still widely closed, thank God for Amazon Prime originals like The Pack to keep us safe and sane. 
I'm a dog lover. I never had human children, so I'm one of those people who has fur babies. I cook for them, have them groomed regularly, take them to get their teeth cleaned, keep their shots up to date; you know, just like real kids. So, when the ad for the Amazon Original The Pack popped up on my screen two nights ago, and there were a bunch of dogs in the ad, I clicked through.
Ignore the first 10 minutes of episode one. Marketers misrepresented the focus of the show. I almost bailed, but cute dogs on the screen, so I stayed tuned. I am so glad I did. 
It is a reality show and I guess the closest comparison would be the Amazing Race. The premise is 12 teams of dogs and their human companions compete in fun and exciting challenges celebrating their incredible bond. At stake is a life changing $500,000 prize for the winning duo and $250,000 for an animal charity of the winner's choice. The Pack is hosted by Gold Medalist skier Lindsey Vonn and her adorable dog Lucy. 
Last night I finished watching the competition and I promise no spoiler alerts. I binged 10 episodes in two evenings. At the end I had tears streaming down my face. That caught me off guard, so of course I had to really think about where the emotion was coming from. Unlike most reality show competitions, this one was about working together to win. In the beginning, the 12 packs are divided into two. One-by-one as each pack dwindled you saw them getting closer and closer and bonding. The humans AND the dogs. So much, that even though they were competing with each other, they helped each other along the way to be successful. 
This is what the credit union movement has always been to me. My pack. My tribe. The seven cooperative principles are the foundation for our pack. With the 6th cooperative principle being my all time favorite: cooperation among cooperatives. 
Seth Godin wrote the book Tribes ten years ago. Below is the description from amazon.com: 
Seth Godin argues that now, for the first time, everyone has an opportunity to start a movement – to bring together a tribe of like-minded people and do amazing things. There are tribes everywhere, all of them hungry for connection, meaning and change. And yet, too many people ignore the opportunity to lead, because they are "sheepwalking" their way through their lives and work, too afraid to question whether their compliance is doing them (or their company) any good. This book is for those who don't want to be sheep and instead have a desire to do fresh and exciting work. If you have a passion for what you want to do and the drive to make it happen, there is a tribe of fellow employees, or customers, or investors, or readers, just waiting for you to connect them, with each other and lead them where they want to go.
I am committed to re-reading Tribes because I am super passionate about starting a new movement. I want no part of the movement that Chip Filson has been writing about lately. The movement of fear and greed that surrounds the 75% – 80% of mergers that include "significant merger-related compensation" being paid to people at the credit union that was being acquired, nearly all of which was kept from members when voting on the merger.
Instead, I want to help START new credit unions. I have interviewed over a dozen groups that have tried, failed, bailed, finally got a charter or looked at an alternative solution to starting their own credit union. In my interviews, I have heard some rather shocking things. 
From a board member of a credit union that was approved in 2019 after three years working with the NCUA: 
"No one at NCUA is assigned to this function, it felt like it was a tennis match. We would serve the ball and wait months for the ball to come back. When they would not respond to emails, we would send the NCUA a certified letter. Then we would get a response."
From a group that tried for 4 years, gave up and found an alternative solution:
"Reached out to our state league, absolutely no help whatsoever. CUNA said, "I don't know why you would want to do this." We reached out to credit union CEOs for guidance and realized they have never really built anything. The CEOs shared that their growth strategy is all merger and acquisition, so they are not interested in organic growth. But would be happy to take in our group as a SEG.
From a State Regulator: 
"Feels like the more consolidation that occurs the more the industry is ripe for the bankers finally winning on the taxation battle, which could really hurt credit unions." 
Credit unions are not going down on my watch, which is why I'm happy to be part of the CUSO Challenge. There are five initiatives, and we are actively gathering like-minded individuals who are willing to work together to win. For more information on the CUSO Challenge and to get involved go to www.cusochallenge.org. 
Who wants to be part of The Pack?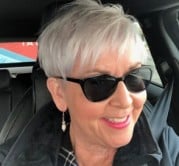 Denise started her credit union career over 30 years ago as a Teller for Pacific NW Federal Credit Union in Portland, Oregon. She moved up and around the org. chart ...
Web: https://www.zest.ai
Details