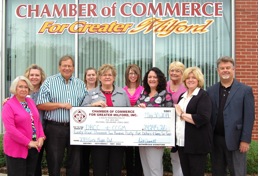 2014 Marvelous Man of Milford unveiled
MILFORD, DE (June 4, 2014) —  On the evening of May 2, twelve of Milford's Most Marvelous Men, took center stage at the 3rd Annual Girls Night Out Event to raise more than $24,000, while vying for the title of Milford's Marvelous Man and raising money for co-beneficiaries, the DE Breast Cancer Coalition and the CCGM.
For the DE Breast Cancer Coalition and the Chamber of Commerce for Greater Milford, Girls Night Out is an opportunity to involve the entire community while showcasing small businesses and entrepreneurs in an effort to raise money that supports the physical and economical needs of our families, friends and neighbors.  jo Schmeiser, CCGM Ex. Director stated "The funds raised from chamber events are used for the daily operations of the CCGM, and when partnering with one of our members like the Delaware Breast Cancer Coalition, all funds raised stay local to help residents in our community."  Deb Jewell, Event Chair and Platinum Sponsor Representative from Sussex County Federal Credit Union, was left speechless, at the outpouring of support from the models, their represented companies as well as the generosity of the attendees.  Jewell stated "Having chaired this event for the past 3 years, it's overwhelming to see the growth of Girls Night Out and the phenomena it has become; I'm honored to support a program that directly influences breast cancer resources and their availability in our local community".
Girls Night Out featured a Marvelous Man of Milford fashion show, as well as entertainment and games from Dana McDonald of Cool 101.3, refreshments from Milford's favorite eateries, along with the opportunity to shop with cash and carry vendors or win a host of items from the Chinese auction and cupcake raffle.  Guests were treated to the unveiling of the first ever Marvelous Men of Milford 2015 calendar, as well as the naming of Dr. Mike Meyer as Milford's Marvelous Man.  Dr. Meyer has a personal connection to breast cancer as his mother was a victim of a 14 year battle with breast cancer.  He emphatically supports the DBCC and was honored to participate in this event because "the funds stay local and DBCC maintains a low level of overhead that allows them to maximize your donation."
For more than 55 years, Sussex County Federal Credit Union has existed as a not-for-profit, member-owned and operated financial institution; serving those who live, work, worship, attend school and/or volunteer in Sussex County or the City of Milford.  Visit www.sussexcfcu.com to experience the credit union difference. 
---