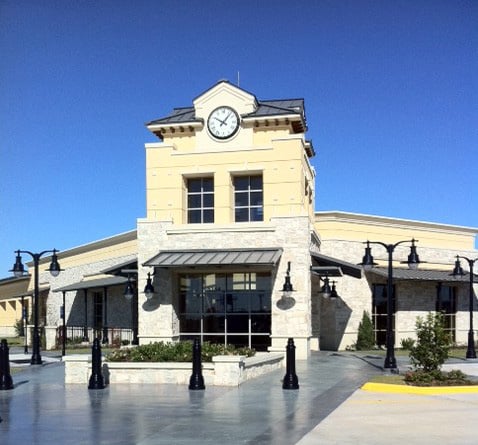 Advancial's Second Location in Lafayette Opens its Doors
LAFAYETTE (November 1, 2012) — Advancial Federal Credit Union opened its second location in Lafayette, Louisiana on October 22. Located on Johnston Street, near The Mall of Acadiana, the newest location will serve members living or working in the southern portion of Lafayette.
"A large number of Advancial's staff have contributed their thought and time in making our newest location in Lafayette another place where members are happy to conduct banking," said Brent Sheffield, President and CEO of Advancial.  "Our newest location has all the amenities of our original location but with some upgrades to provide convenience to members."
While banking at the new South Lafayette branch, members can enjoy a coffee bar, iPads to keep kids entertained and privacy rooms for loan application discussions. Upon entering the branch members are welcomed with a hallway of multi-changing bubbles to provide a high tech feel in an otherwise old world styled building. Multi-changing lights, jumbo sized televisions and automated systems contrast with black rod iron detailing, real barn house doors and exposed wooden beams. These features and décor elements deliver Advancial's value of innovation while keeping with the local architectural style.
"We're very excited to be welcoming members to this new location," said Jackie Armentor, Branch Manager of Advancial's South Lafayette branch. "Along with the obvious upgrades we have in the lobby there are many perks we've included in the break room to give staff a feeling of home while they're at work."
The break room features full tele- and video conference capabilities, spacious seating and high-end kitchen appliances. Staff also benefit from integrated automated systems for money handling and drive-thru service that deliver faster queuing for members. Plans are underway to promote the new branch with a Lafayette-wide campaign. Local residents can participate in an interactive "tag, you're it" themed game for chances to win cash. Details are to come this month.
With a history dating back to 1937, Advancial provides a diversified line of advanced financial solutions to its members.  Today, Advancial is a full-service financial institution that serves more than 75,000 members worldwide and has assets of over $1 billion. For more information on this organization, please visit www.advancial.org.
---