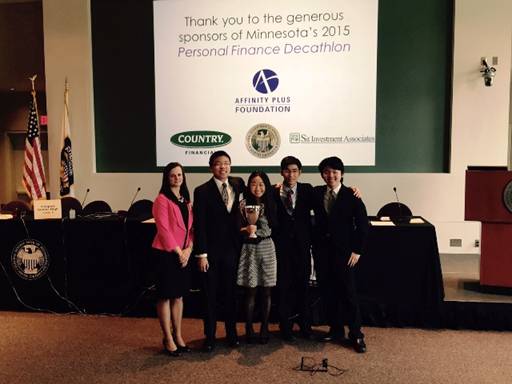 Affinity Plus Foundation an active sponsor of the 2015 Personal Finance Decathlon
Mounds View High School was awarded the 2015 Personal Finance State Champion Recognition
ST. PAUL, MN (April 29, 2015) — High school students from across the state of Minnesota gathered at the Federal Reserve Bank of Minneapolis to compete in the 2015 Personal Finance Decathlon State Championship. Twelve teams were invited to the state championship after demonstrating their knowledge of personal finance online against dozens of other Minnesota high school teams. The winning team will have the opportunity to compete at the National Personal Finance Decathlon taking place in St. Louis, Missouri in May. The Affinity Plus Foundation sponsored the Decathlon through the Minnesota Council on Economic Education (MCEE).
"The Affinity Plus Foundation strives to support financial education across our state and the sponsorship of this type of an event makes perfect sense," commented Amy Hanson, Executive Director of the Affinity Plus Foundation. "I am amazed at the financial knowledge of these students, as well as the works of MCEE to promote financial literacy."
Affinity Plus Federal Credit Union and Foundation staff were present throughout the Decathlon. Roles included asking questions of the teams surrounding ten areas of personal finance, sharing further education and career information during the luncheon, and awarding Mounds View High School its state champion designation and presenting their trophy.
MCEE provides professional development, programs, materials and resources to strengthen financial literacy among communities and schools. The Affinity Plus Foundation has granted thousands of dollars to MCEE to support financial education. Foundation representatives were also at last year's Decathlon and have been presenting in classrooms across the state in conjunction with MCEE over the past year.
For more information about the Affinity Plus Foundation or to apply for a community grant, visit affinityplusfoundation.org.
About the Affinity Plus Foundation
Founded in 2000, the Affinity Plus Foundation is a 501(c)(3) serving Minnesota communities. The Foundation proudly administers its own scholarship program, awards grants to nonprofit groups and schools, and supports financial education initiatives through partnerships, presentations and resources. The Foundation operates on funds generated from its annual golf tournament, fishing tournament, silent auction, Affinity Plus Federal Credit Union and generous donations from members of the community who believe in bettering the quality of life for others through equitable financial education for all. For more information about the Foundation, visit affinityplusfoundation.org
---