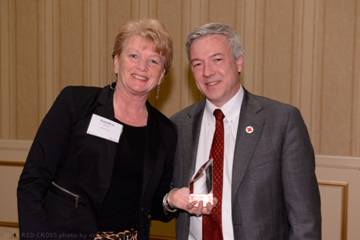 Affinity Plus receives award from American Red Cross
ST. PAUL, MN (April 17, 2014) — Affinity Plus was honored at the Celebration of Giving Event hosted by the American Red Cross – Northern Minnesota Region with a 2013 Silver Partner Award for Humanitarian and Blood Services.
"Affinity Plus and its members have been tremendous partners with American Red Cross throughout the state, with financial contributions and with life-saving blood donations. We are fortunate to have their support in efforts to help our neighbors in times of emergency, whether that's down the street, across the country, or around the world," said Rebecca Oswald, gifts officer.
The American Red Cross has been a Charity of Choice of Affinity Plus since 2005, and has supported the organization through the collection of cash and Participation Rewards points donations and hosting blood drives.
"We would like to thank our members because their generosity and support of the American Red Cross is the reason we received this award," stated Dave Larson, president and CEO of Affinity Plus. "It's a great example of the cooperative spirit because it shows what we, as a membership and as a community, can accomplish when we work together."
For more information about Affinity Plus, visit www.affinityplus.org.
About Affinity Plus Federal Credit Union
Affinity Plus Federal Credit Union is a not-for-profit cooperative that puts people first above profits. We are committed to empowering consumers – for knowledge, for understanding and to know there are alternatives that focus on the success of people, not the bottom line. Members of Affinity Plus receive maximum value through competitive rates, minimal fees, and unique, member –centric products and programs. Affinity Plus is the largest credit union in Minnesota with state-based assets and has 27 branches located throughout the state. With more than $1.7 billion in assets, Affinity Plus is based in St. Paul and is owned by more than 180,000 members. Through a broad range of eligibility criteria, almost anyone can become a member of Affinity Plus. Additional information is available at www.affinityplus.org or by calling 800-322-7228.
Photo provided by Rich Ryan, Red Cross. Pictured: Sandy Olson, marketing event coordinator for Affinity Plus, accepts award from Phil Hansen, chief executive officer of the American Red Cross – Northern Minnesota Region.
---