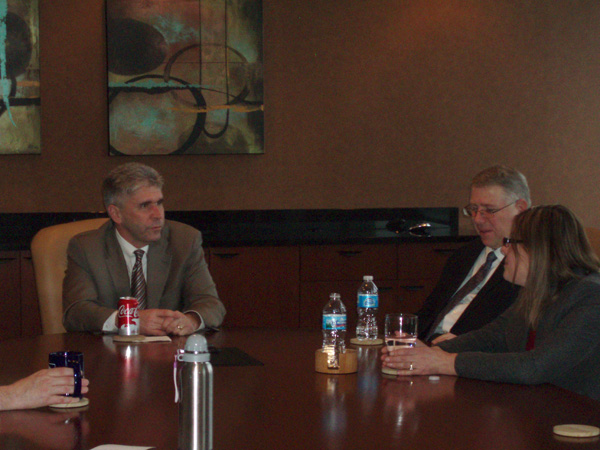 Credit Unions Receive Pre-Session Insight from Rep. Atkins
ST. PAUL, Minn.– Minnesota credit union representatives received an insider's look at the upcoming legislative session during a meeting with House Commerce leader Rep. Joe Atkins (DFL-Inver Grove Heights) on Dec. 17. As incoming Chair of the House Commerce and Consumer Protection Policy and Finance Committee, Rep. Atkins works closely with credit unions on legislation that will impact them and their members.
During his 10 years in office, Rep. Atkins has been a strong supporter of credit unions and is known for working with them on a variety of financial issues. His discussion with credit union representatives focused on the state of the economy and the recovery of Minnesota credit unions. Attendees emphasized that credit unions are slowly rebuilding after the recession and asked Rep. Atkins to continue to help strengthen the economy and create jobs.
Looking ahead to next year's legislative session, Rep. Atkins stressed the importance of educating elected officials about credit unions. With 40 percent of incoming legislators being new in 2013, teaching elected officials about the credit union difference will be more important than ever, he stated. He also encouraged credit unions to keep an open line of communication with him if there are any issues the state Legislature should consider.
"We are proud and honored to have a credit union supporter like Representative Atkins serve as the chair of the committee that considers a majority of credit union issues," said MnCUN Vice President – Govermental Affairs Mara Humphrey. "Our strong relationship with Representative Atkins enables us to ensure that the credit union position is heard at the state Capitol.
The Minnesota Credit Union Network is an organization representing the state's 134 not-for-profit cooperative credit unions serving more than 1.5 million member-owners in Minnesota. For more information, visit www.mncun.org.
---