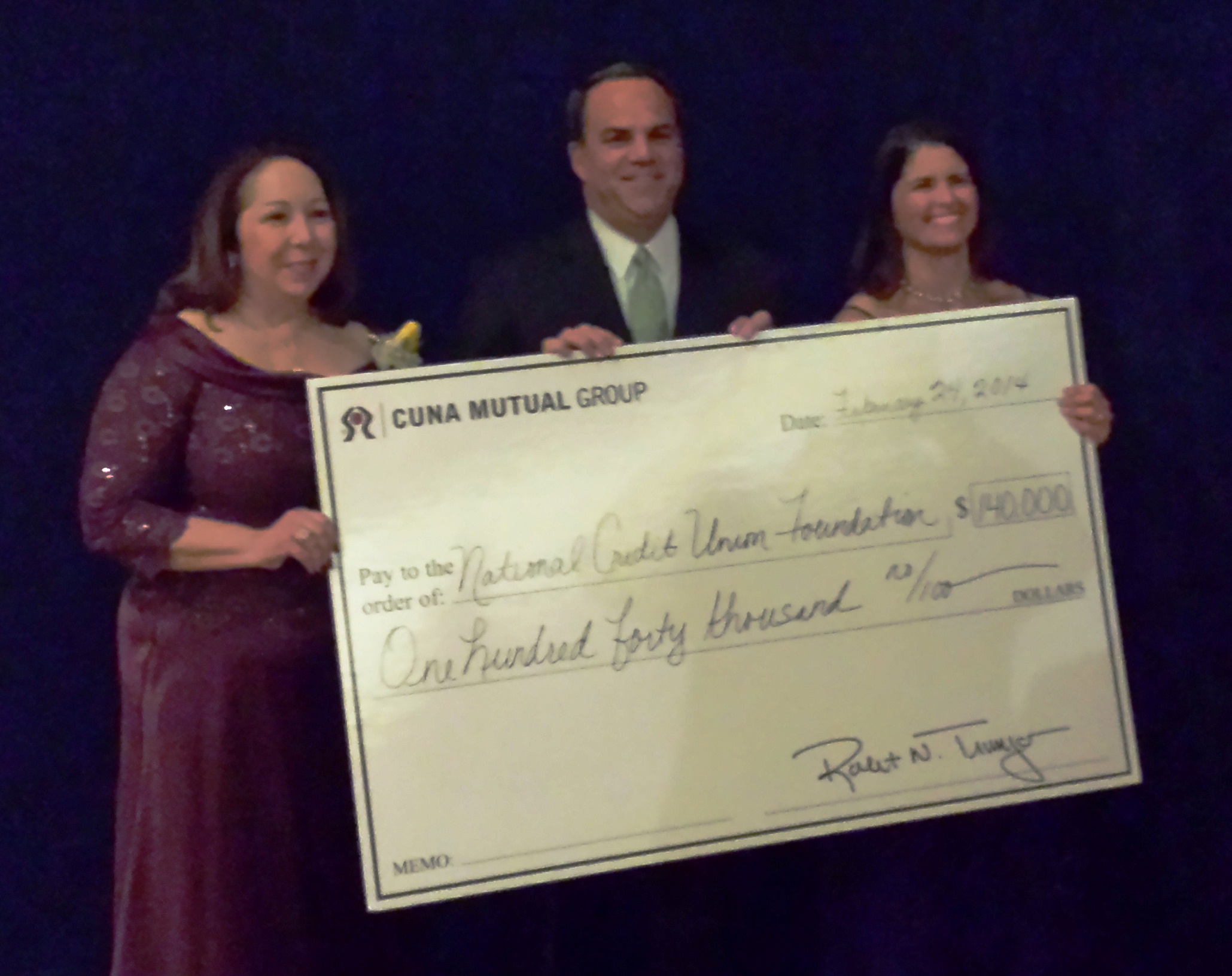 CUNA Mutual Group contributes $140,000 to National Credit Union Foundation
WASHINGTON, DC (February 25, 2014) – CUNA Mutual Group President & CEO Bob Trunzo on Monday presented a $140,000 check to the National Credit Union Foundation (NCUF) to support the organization's general fund and for the Credit Union Development Education (DE) Program.
The check was presented prior to NCUF's 2014 Herb Wegner Memorial Awards Dinner held in conjunction with the Credit Union National Association's Governmental Affairs Conference.
"CUNA Mutual Group has been a long-time supporter of NCUF, and we are honored to support an organization that embodies the spirit of credit unions through its efforts to strengthen and develop the U.S. credit union movement," Trunzo said. "We are also proud to have a number of employees who are graduates of the DE program, which promotes credit union philosophy and the many benefits credit unions offer their members."
As the movement's charitable arm, the NCUF funds industrywide development initiatives. These include financial education to consumers of all ages, disaster assistance, greater access to affordable financial services, and helping empower consumers to save, build assets, and own homes.
"We sincerely appreciate CUNA Mutual Group's sustained support of the National Credit Union Foundation," said Gigi Hyland, NCUF executive director. "The continuing contributions of organizations like CUNA Mutual Group enable NCUF to support effective initiatives that improve people's financial lives through credit unions."
To learn more, follow @CUNAMutualGroup on Twitter, circle +CUNA Mutual Group on Google+, or visit: http://www.cunamutual.com/portal/server.pt/community/cuna_mutual/402/_gac_2014/897683?utm_source=cunamutual&utm_medium=press_release&utm_campaign=gac.
CUNA Mutual Group was founded in 1935 by credit union pioneers, and our commitment to their vision continues today. We offer insurance and protection for credit unions, employees and members; lending solutions and marketing programs; TruStage®-branded consumer insurance products; and investment and retirement services to help our customers succeed. More information is available on the company's website at www.cunamutual.com.
---