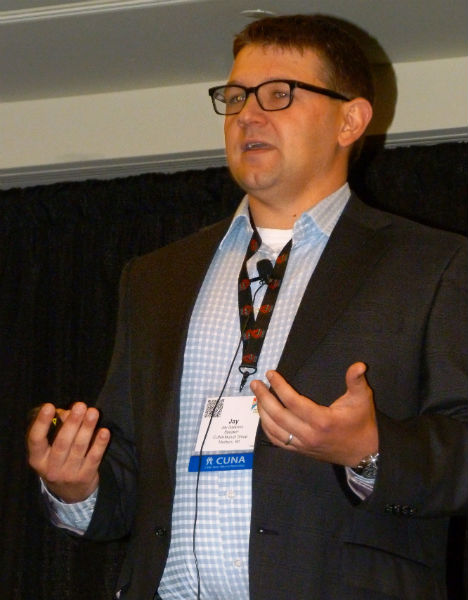 Cyber and data security incidents, related loss on the rise
CUNA Mutual Group's Isaacson To ACUC: Network Security Only As Good As Weakest Link
SAN FRANCISCO, CA (July 3, 2014) — Cyber liability exposures continue to evolve, and credit unions can no longer rely solely on their information technology staff to ward off a cyber-attack. Network security now requires solid governance and oversight with active participation by management and the board of directors, CUNA Mutual Group's Jay Isaacson told an America's Credit Union Conference Discovery breakout session audience Wednesday.
Isaacson, vice president of Commercial Products, said data breaches are increasing across all businesses, resulting in significant dollar losses and reputational damage. He cited the Verizon 2014 Data Breach Investigation Report, which indicated 1,367 data breaches occurred in 2013, with 465 involving the finance industry.
And the price tag is high. In May, the Ponemon Institute reported in its Cost of a Data Breach Study, the average total cost of a data breach was $3.5 million, with a global average cost of $145 for each lost or stolen record containing sensitive and confidential information.
"Think of your own credit union and do the math. While a data breach might seem somewhat remote, it's within the realm of possibility and could threaten the safety and soundness of your institution," Isaacson said.
Within the financial sector, the most common security breach incidents involved Web application attacks, denial of services (DDoS) attacks, payment card skimming and insider misuse, according to the Verizon study. While financial gain motivates most data breach perpetrators, cyber espionage is also increasing. He said the most common sources of data breaches are hacking, followed by malware.
Specific to credit unions, Isaacson said the most common cyber claim themes reported to CUNA Mutual Group under its Cyber & Security Incident insurance coverage involved DDoS, third-party service providers, employee errors and lost or stolen devices.
"Network security is only as strong as the weakest link. You may have an air-tight data system, but if a third-party provider you use is lax, or a laptop containing confidential data goes missing, your credit union is at risk.
Isaacson said risk management considerations include education and training for all employees (not just IT staff); development and frequent testing of an incident/breach response plan; and the creation of a data security incident response team. Member education is also important.
"There's a need to balance security and convenience. Members need to understand why certain security measures they might not consider convenient are necessary for their protection and the credit union."
He also encouraged attendees to consider transferring some of the risk to a cyber liability insurance policy. The two main components of a good cyber liability policy include expense coverage to assist in managing and mitigating a data breach and liability coverage to protect against related lawsuits.
In closing, Isaacson asked the audience to consider the following questions to help determine their level of preparedness for cyber-attacks:
Does your credit union have an Incident/Breach Response plan?
Do you have access to the necessary level of internal and external expertise to manage through a breach (IT Professionals/PR/Legal Counsel)?
Does your credit union understand the notification obligations and requirements of your state or any other state in which it has a record?
Does your credit union regularly review the controls and security of third parties housing your data?
Does your credit union have mechanisms in place to detect and react to potential Denial of Service attacks?
To learn more, follow @CUNAMutualGroup on Twitter, circle +CUNA Mutual Group on Google+, or visit http://www.cunamutual.com/pressroom.
CUNA Mutual Group was founded in 1935 by credit union pioneers, and our commitment to their vision continues today. We offer insurance and protection for credit unions, employees and members; lending solutions and marketing programs; TruStage® consumer insurance products; and investment and retirement services to help our customers succeed. More information is available on the company's website at www.cunamutual.com.
CUNA Mutual Group is the marketing name for CUNA Mutual Holding Company, a mutual insurance holding company, its subsidiaries and affiliates. Life, accident, health and annuity insurance products are issued by CMFG Life Insurance Company. Property and casualty insurance products are issued by CUMIS Insurance Society, Inc. Each insurer is solely responsible for the financial obligations under the policies and contracts it issues. Corporate headquarters are located in Madison, Wis.
---