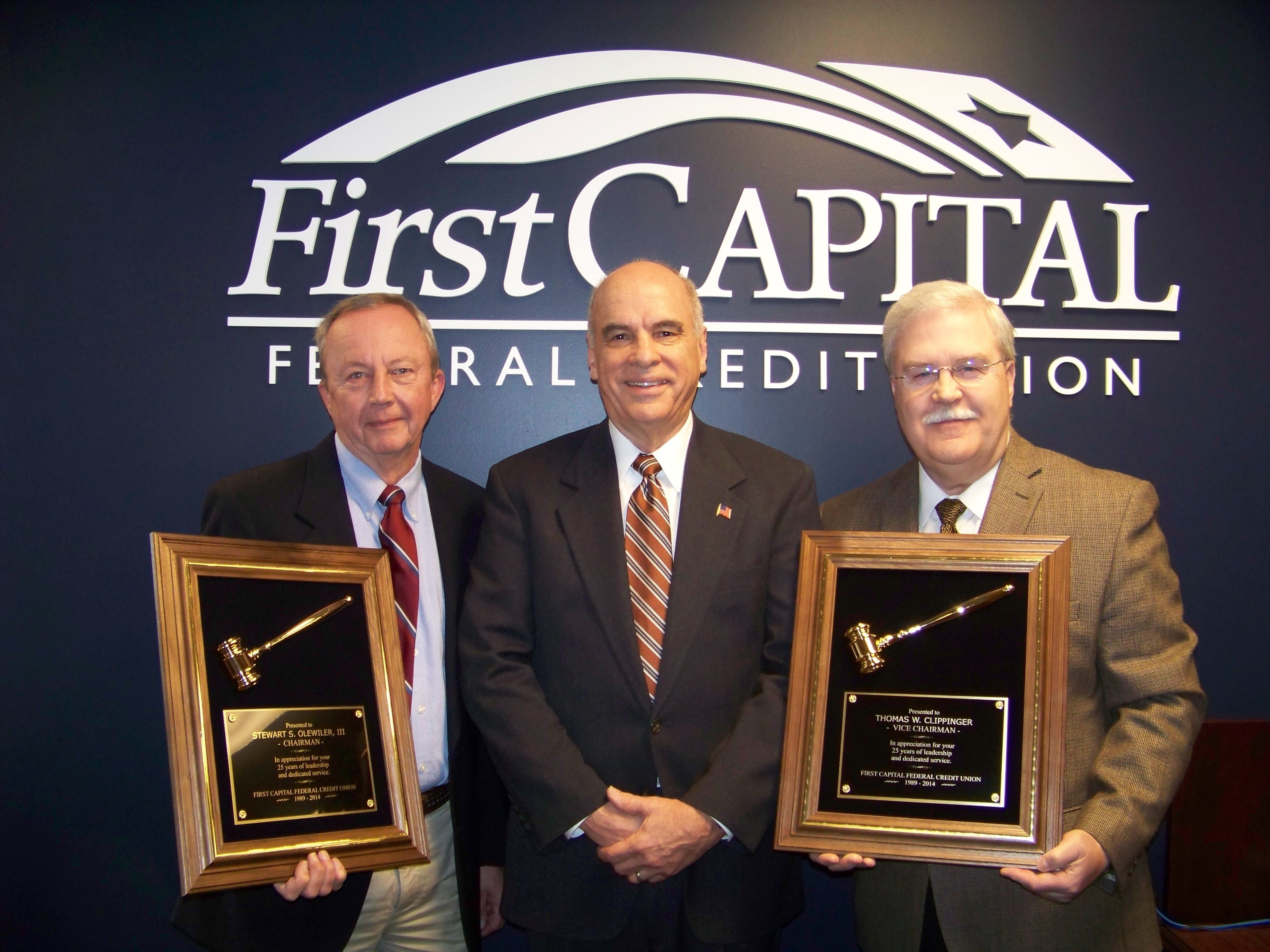 First Capital Federal Credit Union honors two Board Members for 25 years of service
YORK, PA (April 9, 2014) – On Thursday, March 20, 2014, First Capital Federal Credit Union held its Annual Meeting at the Main Office located in West Manchester Township.  During the meeting, the Credit Union honored two long-time board members.  Stewart Olewiler, III, Chairman, and Tom Clippinger, Vice Chairman, both celebrated 25 years of volunteer service on First Capital's Board of Directors.
Stewart Olewiler, III was born and raised in York, PA.  He graduated from York College of Pennsylvania with a Bachelor of Arts degree in History.  For the past 21 years he has worked as the Zoning and Planning Officer and Building Code Official for Manchester Township.  He was previously employed by Penn Advertising and West Manchester Township.  Stu has one son and a grandson.  His hobbies include golfing and yard work.
Tom Clippinger is the Director of Operations at Tekgard Inc., a manufacturer of advance thermal management systems for the defense industry.  Tom received his Bachelor of Science degree in Mechanical Engineering Technology from the University of Southern Colorado.  Throughout his four decade career, Tom has held senior management positions with local manufacturing companies including Voith Hydro, Engel Machinery, Graham Engineering, and Precision Custom Components.  In addition to serving on First Capital's Board, Tom has served the York County community as a former board member of the Manufacturers Association of South Central PA and the United Way of York County.  Tom and his wife Joan reside in northern York County where they raised their daughter and son; they have two grandsons.  Tom enjoys outdoor activities including golf, kayaking, fishing and hunting.
First Capital Federal Credit Union is a $160 million asset-size credit union with nearly 18,000 members based in York, PA.  Founded in 1954 as S. Morgan Smith Credit Union, First Capital has merged and grown, and continues to work closely with more than 400 companies and organizations throughout York County and across the country.
---