Flawed Judgment: NCUSIF Audited statements lack transparency and show no correlation in reserve expenses for projected versus actual losses
WASHINGTON, D.C. (April 17, 2014) – Despite being owners of the National Credit Union Share Insurance Fund (NCUSIF), credit unions are often kept in the dark about its performance.
The "clean opinion" given to NCUA's recently released 2013 financial statements for the Fund, albeit presented accurately from an accounting standpoint, offers little value, given the flawed methodology revealed from back-testing and no discussion about the results.
Example:
Provision expense shows no relationship to actual losses over the past five years: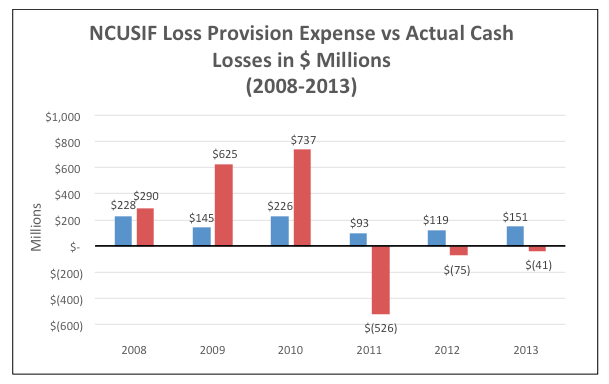 For owners of the NCUSIF, this raises critical concerns – and a number of unanswered questions. Among them:
 Why does the Fund's expense provision for losses have no correlation to the actual net cash losses incurred?
Considering the dramatic decline in CLF liquidity lines from 2010-2013 ($35 billion to $2.9 billion), who has first access to the line in a crisis? CLF members or the NCUSIF?
Given the 52 percent (2008) to 69.2 percent (2014) increase in the overhead transfer rate charged to the NCUSIF, what is the plan for maintaining the Fund's 1.3 percent normal operating ratio?
Those and other disturbing issues are detailed in a new analysis by Co-Ops for Change, which reviewed the past six years of NCUA's operation using the  NCUSIF financial audits.
"The analysis shows huge fluctuations, no real patterns, and little correlation between how NCUA estimates its provision expense and actual cash losses," said Co-Op For Change Founder Chip Filson, who is Chairman of Callahan & Associates and previously served as NCUA's Director of the Office of Examination & Insurance. "The graphs demonstrate the lack of any consistent accounting relationships."
A further  concern is that the Agency operates the Fund at a breakeven level (when actual operating results are totaled), resulting in a hike in the overhead transfer rate of from 52 percent  in 2008 to 69.2  percent in 2014. Subtracting the  2014 transfer rate from projected NCUSIF investment income leaves nothing for provision expense, let alone additions to retained earnings to keep up with share growth and the 1.3 percent normal operating ratio.
Will the outcome for credit unions now be a premium for "insurance" just to pay the Agency's growing operating expenses?
According to Filson, NCUA's pattern of completely wrong estimates raise serious questions about the Agency's ability to make sound financial judgments. The study also includes a spreadsheet presenting selected NCUSIF results in a more readable format, as the audits are not presented in a standard income-expense and balance-sheet format.
"When you take a look at the performance record, it's alarming because the Agency is seeking even more control over individual credit unions' financial decisions through the proposed risk-based capital regulation," he said.
The article, "Latest NCUSIF Audited Statements Document Extraordinary Judgmental Errors in Reserving for Losses," is available here.
About Co-Ops for Change
Co-Ops for Change is a grassroots movement to increase awareness both within the credit union community and among elected policymakers that our regulatory leadership should understand and support the seven cooperative principles. The regulatory process should consider credit unions' cooperative character, as well as the shared economic value they create for people and communities. Credit union members, volunteers, professionals and industry supporters can learn more about the campaign at www.Coops4Change.org.
---