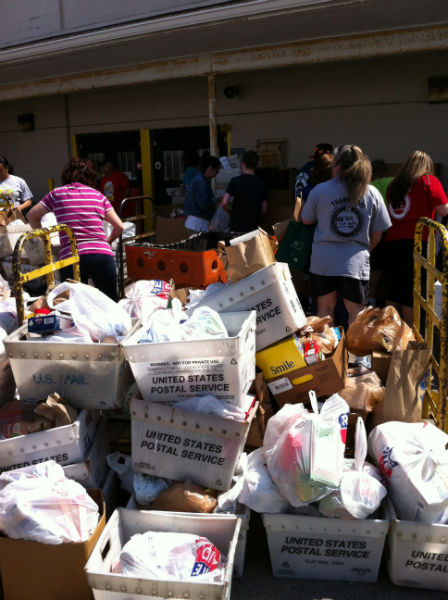 Genisys Credit Union Stamps Out Hunger with local letter carriers
OAKLAND COUNTY, MI (May 27, 2014) — Genisys Credit Union, which provides services to anyone who lives or works in the Lower Peninsula, recently joined forces with local branch 320 of the National Association of Letter Carriers (NALC), Rite-Aid, and the Oakland County Sheriff Department  to support Feeding America and help Stamp Out Hunger across America.
The Stamp Out Hunger drive is a nationwide effort that provides food to local food banks and pantries that rely heavily on donations. With more than 50 million Americans living at risk of hunger, food banks across the country continue to experience record demand for emergency food assistance.
Recently, letter carriers in Auburn Hills, Bloomfield Hills, Clarkston, Lake Orion, Oxford, Pontiac, Rochester, Rochester Hills, Waterford, White Lake, and West Bloomfield collected bags of non-perishable food items left by resident's mailboxes. These donations have been provided to local food bank programs within these communities including The Baldwin Center, Open Door Outreach Center, and The Lighthouse of Oakland County.
"We are so grateful for this donation to help feed those in need in the Waterford and Lakes area," said Robin Maloney, Open Door Outreach Center Executive Director. "Due to this large donation it allows The Open Door Outreach Center to focus dollars in other outreach areas to better serve those in need."
With the help of everyone involved, NALC branch 320 was able to raise over 246,409 pounds of food, a 10% increase from the 2013 total. Best of all, everything collected went directly to food pantries right in this area, helping our neighbors and friends in need.
"The Stamp Out Hunger campaign gives the community an amazing opportunity to help their neighbors in need," said Jackie Buchanan, Genisys Credit Union President and CEO. "This campaign continues to grow each year and we are proud to support the local NALC branch in their efforts to help make a difference locally."
Photo Cut Line: Volunteers help separate all of the donations collected through Stamp Out Hunger.
About Genisys Credit Union:
Genisys Credit Union is a not-for-profit, member-owned financial institution that has been committed to helping its members financially since 1936. Based out of Auburn Hills, MI, Genisys is one of the largest credit unions in Michigan, with over 143,000 members and 23 branch locations. They also provide business loans and a range of services for small to mid-sized businesses.  Genisys Credit Union is proud to be making a difference in their communities, and truly believes that Genisys is "where you come first". Connect with Genisys on Facebook and Twitter by following "GenisysCU". For convenient access to your account, download the Genisys iPhone App in the iTunes Store and Android App in the Google Play Store. For more information or a calendar of events, visit Genisys online at www.genisyscu.org.
---