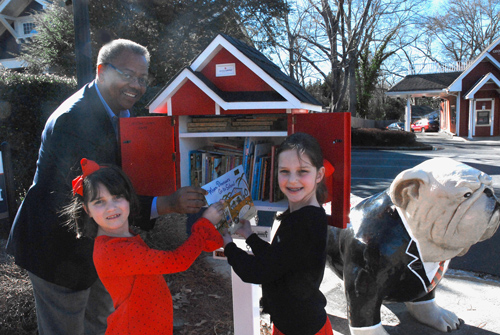 Georgia United builds Little Free Library at UGA Branch in Five Points
ATHENS, GA (February 24, 2014) —  Athens residents now have more access to free children's books thanks to the efforts of Georgia United Credit Union's  UGA Branch at 1710 South Lumpkin Street in the Five Points community.   Georgia United has partnered with Little Free Library, a national organization that promotes reading for all citizens and partners with organizations that build little lending library boxes around towns and cities, filled with books that can be borrowed by local residents.  Operating on an honor system, where people "take a book and leave a book"; Georgia United's Little Free Library features children's books.
Georgia United's Little Free Library is located directly in front of their Lumpkin Street branch and is a miniature model of that particular branch location.  Because of Georgia United's close ties with local schools and the education community, their Little Free Library will focus on reading materials for pre-school and elementary school-aged children.  There are currently 17 Little Free Library locations in and around Athens as reported by www.littlefreelibrary.org.  Georgia United is excited to be able to join this literacy effort which is growing through the efforts of community leaders across the country and locally through LEAD Athens.
Although Athens residents already have access to free books through the Athens-Clarke County Public Library, research from the Athens-Clarke County Literacy Council showed the additional benefits of providing access to books 24 hours a day without the need of a library card.  If you would like to know more or would like to donate new or gently used children's books, contact LittleFreeLibrary.com or email littlefreelibrary@georgiaunitedcu.org.
About Georgia United Credit Union
Georgia United Credit Union is ranked as one of the top credit unions in Georgia in both size and safety at $960 million in assets, 128,000 members, 220 employees and 16 branch locations including two in Athens.  Georgia United seeks to make members' lives easier by offering products, services and education to help members meet their needs and achieve their goals. All accounts are federally insured by the National Credit Union Share Insurance Fund (NCUSIF) up to $250,000 per account.
Georgia United Credit Union serves all State Agency employees, Board of Regents colleges and universities including the University of Georgia, employees of over 500 companies and 11 county school systems including Clarke County. 
---