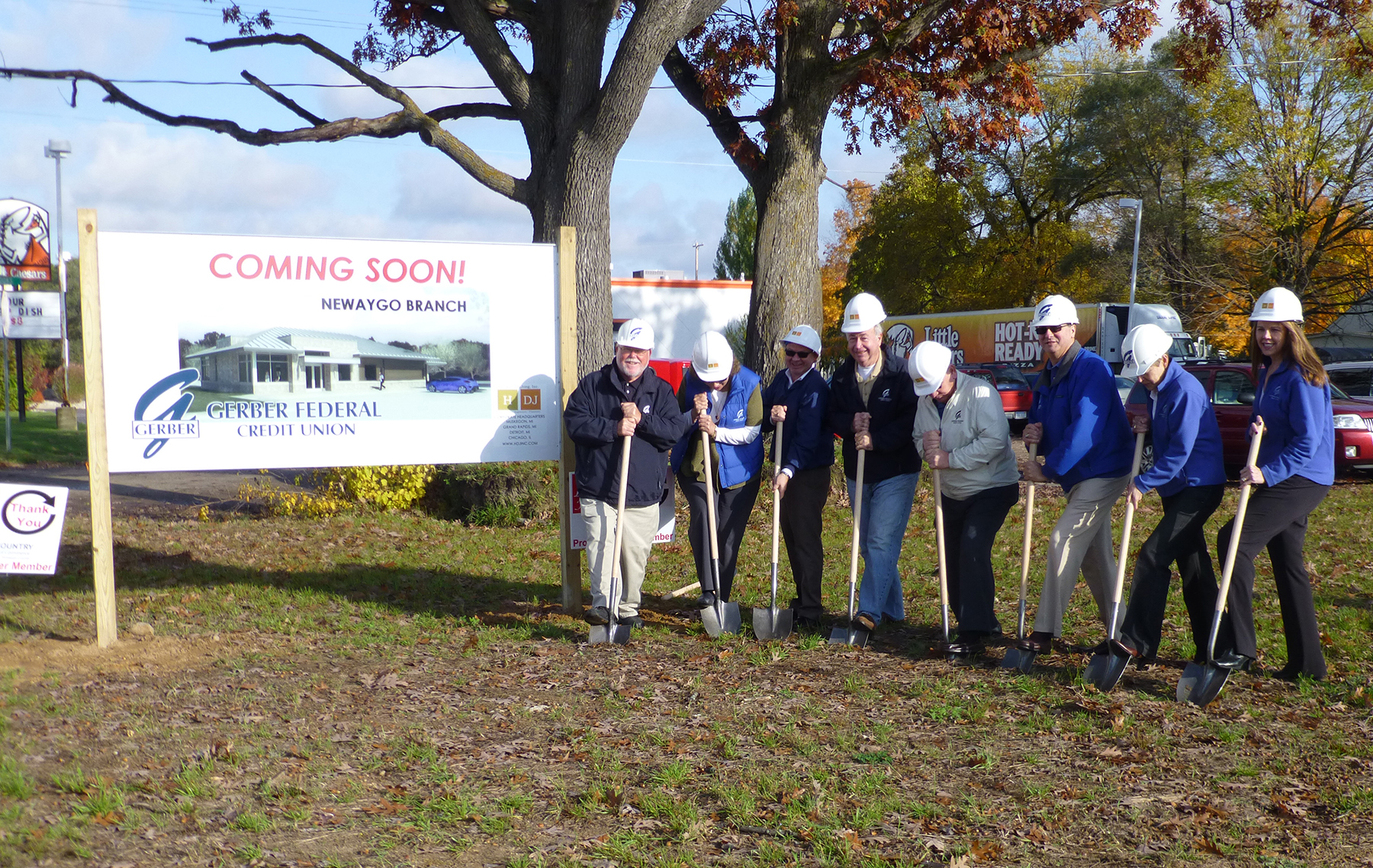 Gerber Federal Credit Union celebrates groundbreaking for Newaygo Branch
FREMONT, MI  (October 17, 2014) — Local and state officials joined together with Gerber Federal Credit Union (Gerber FCU), River Country Chamber of Commerce and honored guests for a groundbreaking celebration at the future site of its new branch in Newaygo, MI.
The 2,800 square foot office will be built at the corner of Adams (M-37) and Brooks Street at the former site of George's Root Beer Stand.  The state-of-the-art branch will feature the latest in financial technology with 4 teller pods, cash-recycling machines and 3 drive-up lanes.
"This new branch comes as the result of tremendous growth in Newaygo, where we have outgrown our location in the Plumb's Supermarket," said President/CEO John Buckley.  "A new branch will allow for more services to be offered to our members along the whole M-37 corridor."
Buckley added, "The new branch office will include a tribute to the corner's history as a root beer stand.  Look for us to include root beer floats in our Grand Opening celebration coming sometime in 2015."
Along with Gerber FCU staff members and board members, the groundbreaking ceremony included former owner George Manciu's family, State Senator Goeff Hansen, State Representative Jon Bumstead, Del Hirdes and Colleen Lynema of the River Country Chamber of Commerce, and Newaygo City Manager Jon Schneider.
Gerber Federal Credit Union has over 13,000 members with assets totaling more than $124 million.  For membership details, visit www.gerberfcu.com/youbelong.  Gerber FCU has two offices located in Fremont, MI, one in Newaygo, MI and one in Fort Smith, AR.  Connect with us on Facebook, Linkedin and Twitter.
---