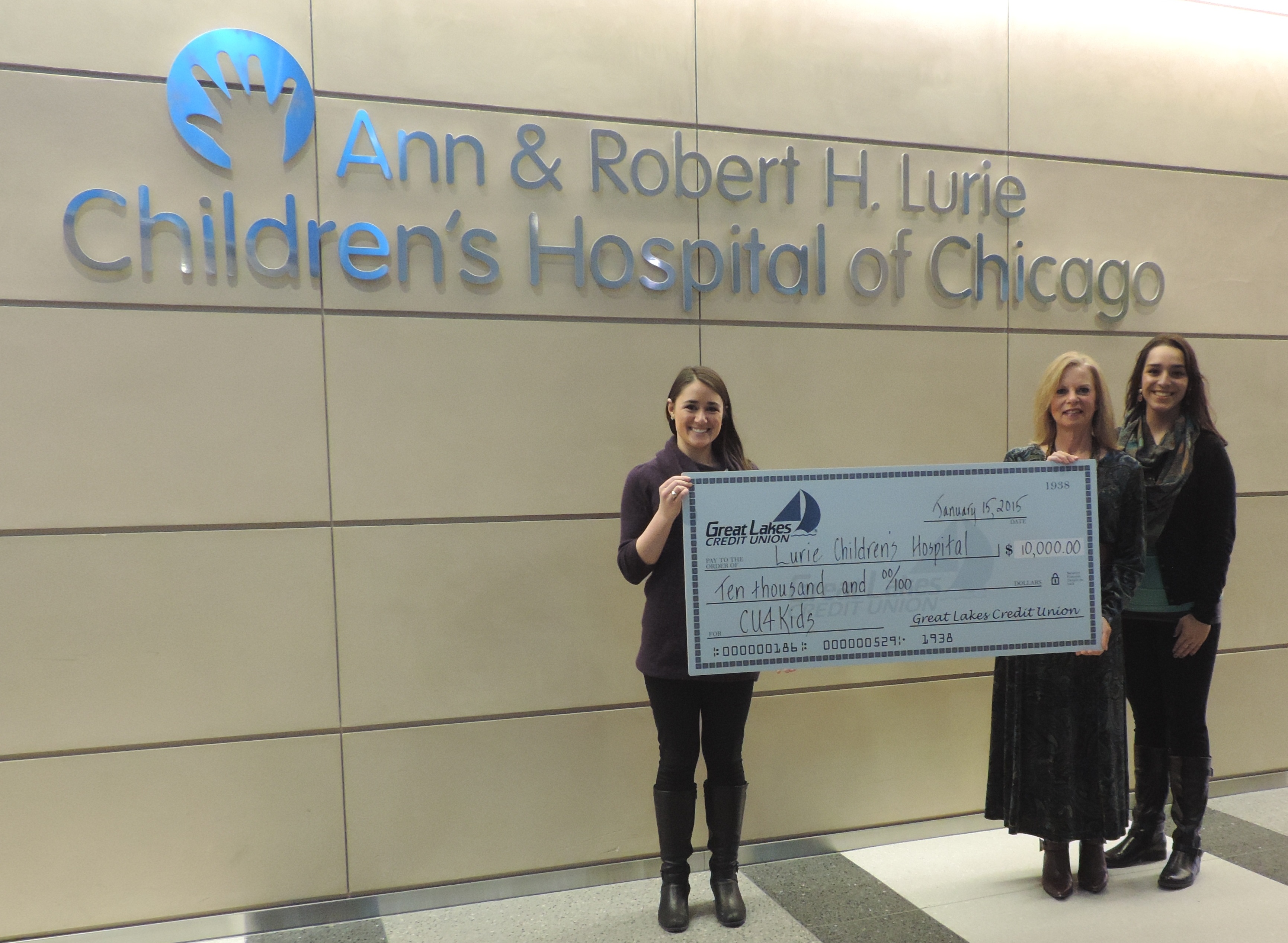 Great Lakes Credit Union donates $10,000 to children's hospital
(January 23, 2015) — Great Lakes Credit Union (GLCU) has always been about supporting local philanthropies and in 2014 aligned with an even broader mission on behalf of children called Credit Unions for Kids (CU4Kids).  CU4Kids is a nonprofit collaboration of credit unions, chapters, leagues, associations and business partners from across the country engaged in fundraising activities to benefit 170 Children's Miracle Network (CMN) Hospitals.   Adopted as the Credit Union movement's charity of choice, credit unions are the 3rd largest sponsor of CMN Hospitals and since 1996, have contributed over $120 million to CMN Hospitals nationwide.  CMN Hospitals treat millions of children every year and is the world's largest children's charity.
The local CMN Hospital is the Ann & Robert H. Lurie Children's Hospital of Chicago.  The hospital relies on philanthropic support to care for more than 153,000 children each year.  One hundred percent of every dollar donated goes back to the hospital. These funds help provide for new facilities, equipment, research, patient services and uncompensated care for families with limited or no insurance.
In early 2014, GLCU established a fundraising goal of $10,000 for the year and recently presented the hospital with a check.  Donations were raised through a number of initiatives that included "Miracle May", where GLCU branches collected cash donations from members and the public.  Donations were also collected at several Shred Day events throughout the year. In addition, staff participated by donating $5 in exchange for the opportunity to wear jeans to work on designated days. Lastly, GLCU donated $1 for every new account opened throughout 2014.
GLCU staff were thrilled to have collectively accomplished their fundraising goal and are looking forward to doing the same in 2015.
Great Lakes Credit Union has 58,000 plus members and over $630 million in assets headquartered in Bannockburn, IL with branches in Antioch, Bolingbrook, Country Club Hills, Gurnee, Homewood, Naperville, North Chicago, Round Lake Beach, Waukegan, Willow Springs and Zion, Illinois.
---