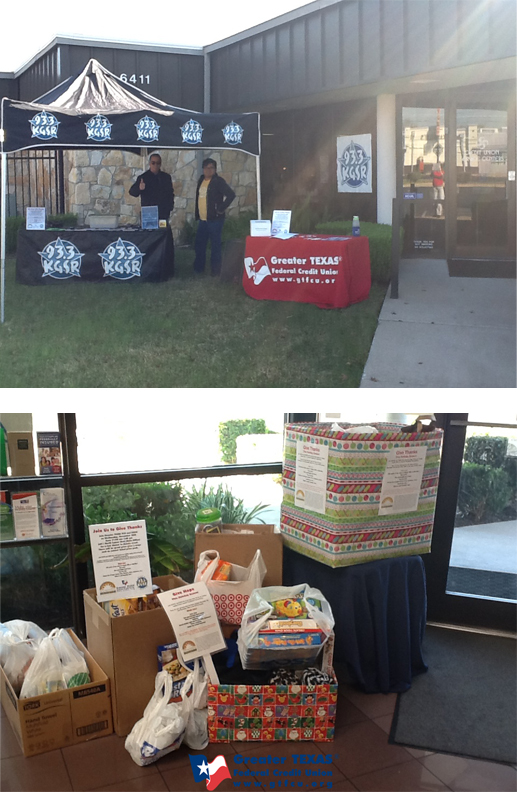 Greater TEXAS Federal Credit Union Partnered with KGSR Austin to Host Give Thanks Supply Drive
Austin, TX – Greater TEXAS Federal Credit Union partnered with a local radio station KGSR Austin 93.3 to help Central Texas families by raising food and supplies for the local non-profit Foundation Communities throughout the month of November.
The final push for the fundraiser was a "last chance to donate" live radio remote event on Wednesday, November 28, 2012 which brought out credit union members, KGSR listeners and the general public with last minute donations. Many boxes of gifts were donated to Foundation Communities from their wish list of supplies.  Over 200 families applied for assistance this holiday season and Foundation Communities plans to use these donations to fill in the gaps. Cash donations were also accepted during the live remote.
Foundation Communities is a local non-profit providing first class, affordable homes and support services for thousands of low-income families and individuals, empowering them with the tools they need to succeed. They offer an innovative, proven model that enables their residents and neighbors to achieve educational success and financial stability. Foundation Communities owns and operates 17 properties in Austin and North Texas providing affordable homes to over 2,600 families, create enriched learning environments for over 700 children as well as ongoing adult education and financial coaching, and help over 17,000 low income residents file their taxes free of charge every year. Greater TEXAS FCU also house their Individual Development Accounts which allow their clients to save money to use towards a new home, getting a higher education, or to open a small business
GTFCU was proud to participate and help bring some comfort and joy to those in need this holiday season. GTFCU has been serving Texans since 1952 with 17 locations across the state.
---