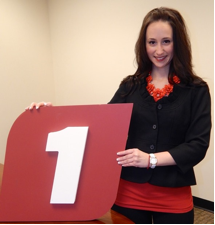 Jessica Revoir promoted to Assistant Vice President of Marketing at First Financial Federal Credit Union
WALL, NJ (January 21, 2015) — Jessica Revoir, of Toms River, was promoted to Assistant Vice President of Marketing at First Financial Federal Credit Union in January 2015.
Ms. Revoir will be responsible for planning and executing special events, developing printed materials, managing e-channel aspects including First Financial's Web site and social media, developing targets, managing the marketing database, performing data analysis, coordinating marketing initiatives, branch merchandising, and communications. Revoir began working at First Financial in October 2008.
Revoir holds a Master of Arts Degree in Corporate and Public Communication with a Certificate in Public Relations from Monmouth University in West Long Branch, New Jersey, and a Bachelor of Arts Degree in Communication with a Concentration in Public Relations and a Minor in Marketing from Marist College in Poughkeepsie, New York. Revoir is also a current board member of the Jersey Shore Public Relations and Advertising Association, where she is the Awards and Events Co-Chair for 2015.
About First Financial Federal Credit Union
First Financial Federal Credit Union (formerly Mon-Oc Federal Credit Union) is a not-for-profit financial cooperative whose goal is to provide the highest level of quality products and personalized services while maintaining financial integrity and stability. Our vision is to be a long-term financial partner with our Members. While First Financial has a highly trained, professional staff using the latest technology, we also pride ourselves on our personal touch. Unlike huge banking conglomerates, policy setting and overall strategic direction of First Financial are overseen by a volunteer Board of Directors made up of credit union members. The credit union is federally insured by the NCUA. For more information on First Financial, visit www.firstffcu.com.
---