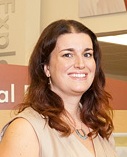 Kimberly Frederickson Promoted to VP of Financial Education and Business Development at Summit Credit Union
MADISON, Wis. —Summit Credit Union has promoted Kimberly Frederickson to vice president of financial education and business development.
Frederickson joined Summit Credit Union in 2004 as a trainer.  Since then, she has held  a variety of learning and development roles, including her most recent promotion in 2008 to assistant vice president of learning and development.
She has more than 13 years of experience in training within the credit union industry.  Prior to joining Summit, Frederickson was a training design and development specialist for CUNA Mutual Group in Madison.
For the past four years, Frederickson has served on the Board of the American Society for Training and Development (ASTD), South Central Wisconsin chapter, most recently as chapter president.  She played a significant role in helping Summit receive the ASTD BEST Award, the training industry's most rigorous and coveted recognition, in 2012 for the second year in a row.
Frederickson earned a bachelor of science degree from University of Wisconsin – Madison and plans to graduate from Edgewood College in May with a master of business administration degree.
Frederickson resides in DeForest with her husband, John and three children, Timothy, age 8, Gwenne, age 5 and Luke, 6 months.
About Summit Credit Union:
Established in 1935, Summit Credit Union is a member-owned financial cooperative open to anyone in Wisconsin.  Summit holds $1.8 billion in assets and has more than 125,000 members with a total of 23 locations throughout the Madison and Milwaukee areas.   For more information, visit www.summitcreditunion.com or call (608) 243-5000 or (800) 236-5560.
---