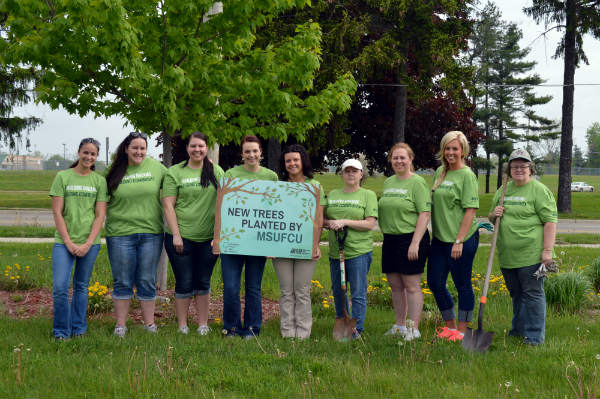 Michigan State University Federal Credit Union continues partnership with Michigan Arbor Day Alliance
EAST LANSING, MI (June 5, 2014) — MSU Federal Credit Union recently partnered with the Michigan Arbor Day Alliance (MADA), City of East Lansing, and City of Charlotte to plant trees in our communities. Trees were purchased through an MSUFCU donation of $2,000 to MADA and community member donations. To help make the tree planting a success, MSUFCU employees volunteered their time to plant trees in East Lansing at Harrison Meadows Park and Patriarche Park, and in Charlotte at the West Side Fire Station. Over the past several years, MSUFCU and MADA have planted more than 550 trees in East Lansing, and recently teamed up with the City of Charlotte, primarily replacing trees lost due to the effects of emerald ash borer beetles.
"MSUFCU and our employees were pleased to continue our longstanding partnership with MADA, as we strive to be an environmentally strong organization. We were also happy to extend our reach in the community to the
City of Charlotte and plant trees at a local fire station," commented Patrick McPharlin, MSUFCU's President and Chief Executive Officer.
MSUFCU's other environmentally-focused initiatives include promotions to encourage members to switch from paper to electronic statements, its achievement of a Leadership in Energy and Environmental Design (LEED) Gold Certification with the construction of its headquarters, and an ongoing emphasis on paper and waste reduction and recycling.
MSU Federal Credit Union, the world's largest university-based credit union, offers a full range of personal- and business-related financial services to Michigan State University and Oakland University faculty, staff, students, alumni association members, and their families worldwide in addition to a variety of select employee groups. Founded in 1937 by a few MSU professors and employees, MSUFCU now has thirteen branches, over 184,000 members, more than $2.6 billion in assets, and over 600 employees.
The Michigan Arbor Day Alliance promotes and facilitates Arbor Day through a progressive network for the stewardship of forestry and natural resources in Michigan's communities. Since 1993, MADA has provided educational programs and services to communities throughout Michigan.
---