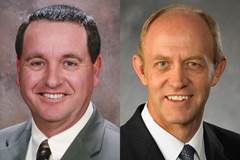 Nevada bills highlight credit union success
League-Supported SB 306 Signed Into Law
(June 3, 2015) — With the Nevada Legislature adjourning for the 2015 legislative session, the Nevada Credit Union League reports it was a successful year for credit unions.
Signed into law by Gov. Brian Sandoval, Senate Bill 306 was authored by Sens. Scott Hammond (R-Las Vegas) and Minority Leader Aaron Ford (D-Las Vegas). The bill will remedy a situation in which home owners associations (HOAs) exercised their super priority lien status in Nevada to foreclose on homes to collect unpaid dues, wiping out hundreds of thousands of dollars in loans without ever giving lenders notice.
SB 306 will make sure HOAs notify lien holders of delinquent HOA assessments on the homes, allowing credit unions and other lenders to remedy the delinquent HOA dues and avoid a foreclosure sale. The bill specifically requires HOAs to provide credit unions with notices when a homeowner is behind on his or her HOA assessments upon notice of default and election to sell, all prior to executing a foreclosure sale. It also offers lien holders and homeowners a redemption period to recover the property if the delinquent assessments are not paid prior to a foreclosure sale.
The League supported SB 306 and had been engaged for several months in negotiating a compromise with stakeholders, including homeowners associations, realtors, banks, and other mortgage lenders.
The also League defeated Senate Bill 260 and Assembly Bill 240, which would have required credit unions to impound HOA dues in escrow accounts for all new home loans in a homeowners association, and pay HOA dues through those accounts. Sandoval also passed his new revenue package to fund education in Nevada. The bill exempts Nevada's credit unions from the modified business tax and commerce tax, and keeps Nevada's credit unions' business license fee at $200. This bill will raise millions of dollars for educational programs and those assisting children and seniors living in poverty, as well as other at-risk groups.
The legislature also passed Senate Bill 512, putting a two-year sunset on the foreclosure mediation program, which would end the program in 2017.
Additionally, the League was successful in amending AB 175 to add transparency for consumers who drive for transportation network companies (such as UBER and Lyft), by requiring an additional disclosure alerting them to the fact that their car is at-risk. The company must to disclose to its drivers in writing, that their personal automobile insurance contract may not cover physical damage done to their vehicles while they are providing services. AB 175 would additionally require drivers—with UBER, Lyft or similar company— with a lien on their vehicle, to notify the lienholder they are using their vehicles to provide these services. AB 176 created a system for transportation network companies to be regulated by the Nevada Transportation Authority.
"This session showed credit union advocacy at its finest, with credit unions and the League doing a fantastic job during a very challenging and intense legislative session," said Wally Murray, chairman of the Nevada League and CEO of Greater Nevada Credit Union in Carson City, NV. "Our member credit unions stepped up at critical points during this session to make sure legislators are aware of our positions on key issues."
He said it's important to cultivate relationships with local lawmakers as their political careers advance. "As a result, at times when we needed them most, we were able to ensure the voices of Nevada's credit unions and members were heard loud and clear."
Wayne Tew, CEO of Clark County Credit Union in Las Vegas, NV, said the legislative session "was one of the most active I have observed. The proactive involvement of credit union CEOs, management teams, advocates, and League representatives was critical in accomplishment of credit union objectives this year."
Tew added: "I encourage all Nevada credit unions to remain politically active so we can maintain our strong relationships with those in elected office."
---