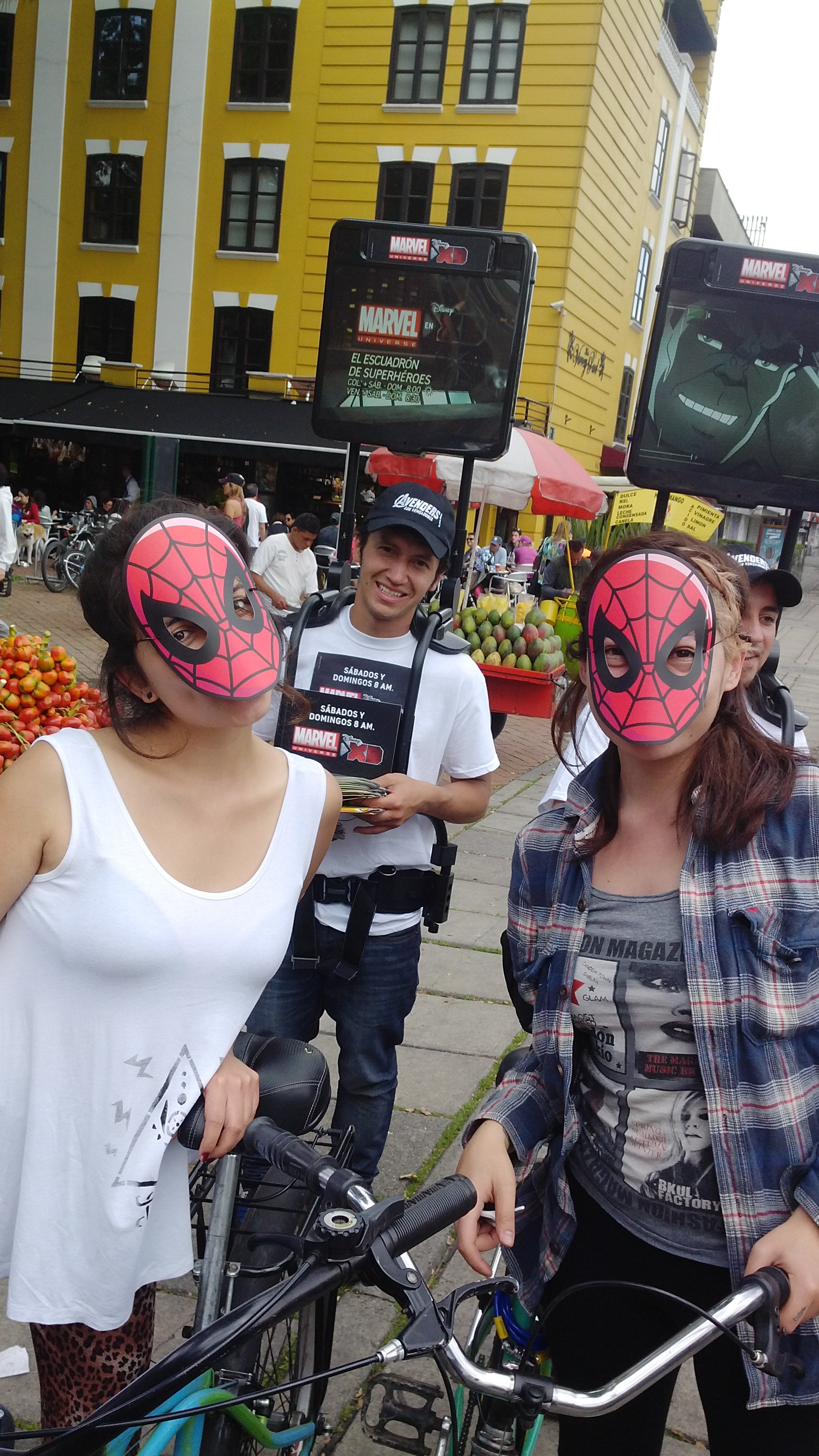 NomadiX Media becomes one of first Scots companies in Colombia with iWalker campaign deal
(April 16, 2014) — NomadiX Media has broken new exporting ground with a lucrative licensing deal in Colombia, South America's third largest economy and a booming tourist destination.
The company, which owns a range of smart technology based Digital 'out of home' Media (DOOH), has teamed up with AdExperiences, one of Colombia's biggest suppliers of advertising space, to introduce NomadiX Media's iWalker product, the world's most advanced wearable media.
The alliance has been such a success that the Columbian franchise is already ahead of target for its first six months of operation and has ordered 10 new iWalkers ahead of schedule, with more on order for next year.
NomadiX Media is one of the very few Scottish companies operating in Colombia, apart from whisky distillers, and it anticipates that its presence will lead to other significant opportunities for its marketing expertise in Latin America.
Samir Rhazali, VP, Business Development at NomadiX Media, said: "We have been marketing internationally, but the Latin countries, with their emerging economies, present opportunities which fit very well with our style of operation.
"Colombia has been a challenging business environment in the past, but it is opening up very quickly and we are keen to position ourselves advantageously in what will be very exciting markets."
The first iWalker campaign in the streets of Bogota's Central Business District ran for nearly three weeks, promoting Blackberry's new extension of its BBM service.  NomadiX iWalkers showed a series of instructional videos and allowed consumers to download the Blackberry app.
NomadiX Media Colombia partners have just completed a campaign for Disney to promote The Avengers, while in the UK, the iWalker was recently used by Acer in Paddington Station to promote its new tablet.
The iWalker is the world's first fully mobile and self-sufficient media system. The screen devices are worn by marketing teams to supply on the move, on-demand information, creating better ROI for marketers and brands.
By locating the brand ambassadors in high footfall areas, the iWalker not only delivers content but interacts with and analyses its audience, noting dwell times, attention times and gender distinction.
The iWalker operates on leading-edge software, that allows it to understand, break down and analyse constituent part of the audience not only for statistical purposes but also to deliver, for example, "gender-specific advertising" which can cause, say, a beauty brand to appear on an iWalker screen when a female member of the audience looks at it.
---