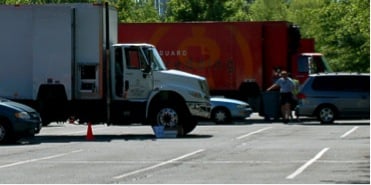 Northwest Federal Shred Day helps prevent identity theft
Credit Union hosts annual member event, safely disposing 24,000 pounds of paper
HERNDON, VA (June 13, 2014) — For more than a decade, identity theft has been the number one consumer complaint to the Federal Trade Commission. To better protect members and help keep their personal information safe, Northwest Federal Credit Union hosted its annual Shred Day on May 31 at its Herndon branch. During the event, members could bring up to three boxes of paperwork to be shredded.
"We highly encourage our members to shred any financial documents or paperwork with personal information, rather than throwing them in the trash," said Chris McDonald, President/CEO of Northwest Federal. "Shred Day offers an easy way to securely dispose of these unwanted items so members can best protect themselves."
Four mobile shredding trucks were on hand to safely dispose of members' discarded materials during the event, where 575 cars arrived with more than 24,000 pounds of paper to be processed. Because documents were shredded on-site, and not stored or transported to a central location before shredding, members were assured their materials were safely destroyed.
Feedback received from members shared their appreciation for the service, as well as its efficient process. According to one member who shared her thoughts in an email: "What a smooth operating system you had. I drove in and was greeted by several smiling faces directing me exactly where to go. It was much easier than I thought. Total waiting time: 1 minute, and I came at 10 am. I was so impressed! Thank you!"
Shred Day is one of many member benefits offered throughout the year by Northwest Federal Credit Union, which currently serves more than 125,000 members. In addition to an extensive online banking program, the Credit Union serves both consumer and business members through branches in Chantilly, Gainesville, Herndon, Leesburg, Manassas and Vienna. It also manages REALTORS® Federal Credit Union, a division of Northwest Federal Credit Union, serving real estate agents affiliated with the National Association of REALTORS® (NAR) and related organizations nationwide.
To learn more about Northwest Federal, visit a local branch or www.nwfcu.org.
About Northwest Federal Credit Union
Northwest Federal Credit Union is a full-service financial institution ranking among the largest credit unions in Virginia and in the top 50 credit unions in the nation. Established in 1947 and headquartered in Herndon, Va., Northwest Federal is dedicated to providing financial services and education to its members and the community. The Credit Union currently serves more than 125,000 members and has assets in excess of $2.5 billion. For more information, visit www.nwfcu.org. 
---