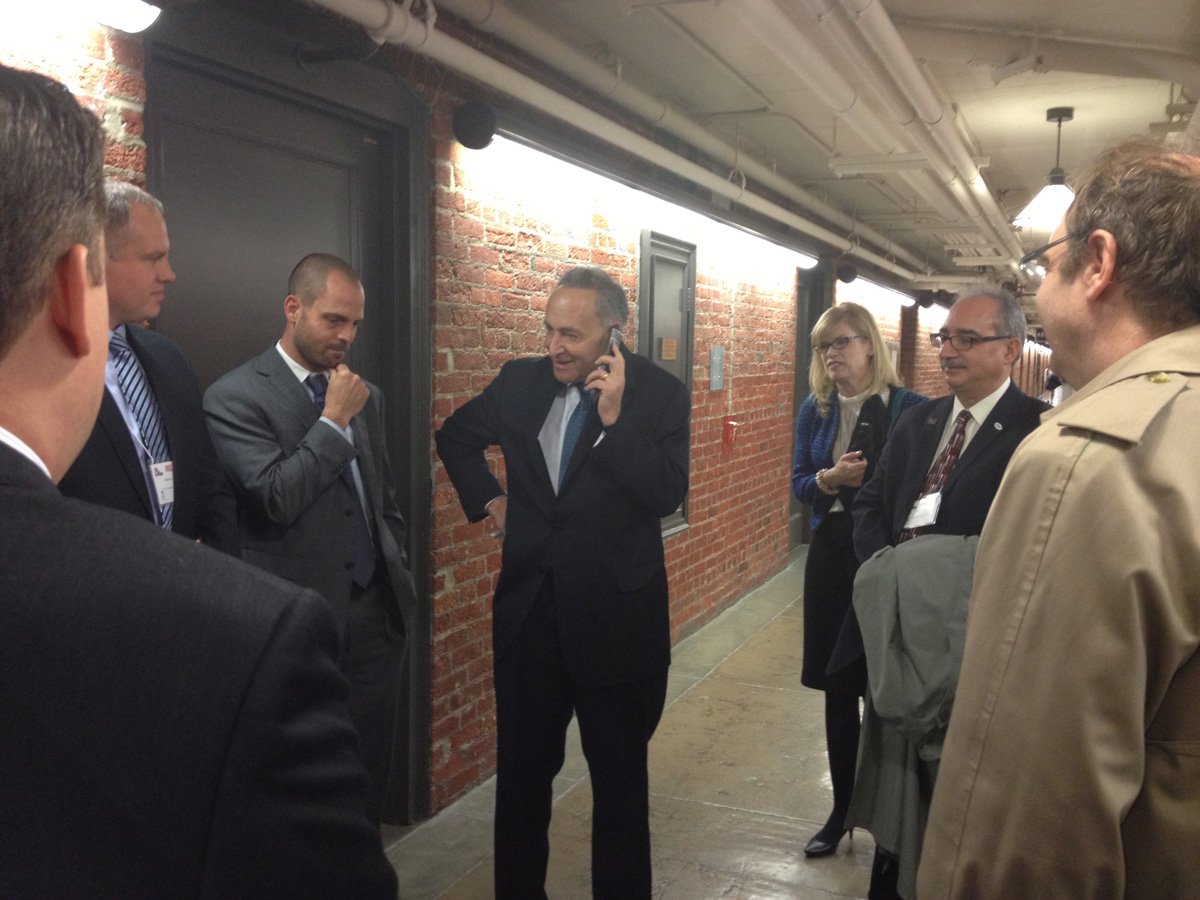 NY CU Advocates Make Their Mark in D.C.
(Albany, NY) – A strong delegation of credit unionists from New York State joined 500 credit union and small business representatives for a national Hike the Hill on member business lending (MBL) legislation. The group met with their representatives on both Tuesday and Wednesday to build support for House and Senate bills that would increase the credit union MBL cap.
The national Hike kicked off Tuesday with a legislative briefing at Credit Union House. That afternoon, the New York advocates visited the office of Sen. Kirsten Gillibrand  to thank her for her continued support of MBL legislation. Gillibrand's staff reiterated her strong support for the issue and her willingness to work with fellow senators to secure a vote and pass the legislation.
Tuesday evening, the New York group visited Sen. Charles Schumer, a powerful ally in the MBL fight. In addition to emphasizing his continued support and commitment, Schumer strategized with the group about the best ways to pass the legislation during such a fluid time in session. After hearing about the latest developments, he immediately called Sen. Mark Udall (D-Colo.), lead sponsor of the Senate's MBL bill, to ensure he was updated and to discuss next steps.
Other New York legislators expressed their support during a reception held Tuesday evening. Rep. Paul Tonko addressed the group, praising credit unions for their excellent track record and willingness to meet the needs of small business owners. "You invest in communities. You make things happen," he said.
Rep. Tom Reed also attended the reception and talked with advocates from Corning FCU and CFCU Community CU—including Ithaca-based small business owner Phil Maguire. Maguire, who owns a car dealership and whose wife owns a vineyard, told Reed his personal story about receiving much-needed credit from CFCU Community CU during the recession.
"This legislation is extremely important to me and my business," shared Maguire. "The cap must be raised for us to continue to be able to work with our credit union."
The advocacy continued Wednesday, when the New York group visited the offices of six representatives who have not yet co-sponsored the MBL legislation. On the list were: Reps. Yvette Clarke, Chris Gibson, Michael Grimm, Nan Hayworth, Nita Lowey and Carolyn Maloney.
Overall, the meetings produced positive dialogue and feedback from legislators. After hearing stories from the credit union leaders and New York small business owners Anthony Grigos and Phil Maguire, Maloney pledged to support the bill should it come to a vote in the House. Staff representatives for Clarke were also very positive, and both Gibson and Grimm agreed to closely review the legislation if it advances.
"It was important to me to be part of this Hike because I wanted to voice my support one more time, knowing how close we are to achieving this goal," said Ann Hynes, president/CEO of St. Pius X Church FCU. "The tone of the meetings was very positive, and you could sense that we are close. It was clearly the right time for one more push."
The national Hike the Hill caps a strong year of support for the MBL legislation, which began with hikes before and during the 2012 CUNA Governmental Affairs Conference (GAC) and continued in Washington and home districts throughout the year. Notably, New York credit unionists have built impressive backing among their representatives. A number of influential New York legislators— including Schumer, Gillibrand and 12 House representatives—have already supported the legislation as cosponsors.
"This Hike came at a critical time, and I am confident that we built even more support among our representatives as a result of our meetings," said Mellin. "The credit union leaders and small business owners who represented New York did an excellent job of sharing their stories and insights, and we greatly appreciate their leadership and participation."
During the trip, Credit Union Association of New York President/CEO William J. Mellin and Association Board Member/Entertainment Industries FCU President/CEO John Gibardi also met with NCUA Chairman Debbie Matz to discuss post-Hurricane Sandy developments.
Also on Tuesday, Mellin and Gibardi sat down with Matz to discuss credit unions' efforts and challenges following Hurricane Sandy. Together, they dialogued about: how credit unions are helping their members and communities; lessons learned; the importance of cooperation; the success of shared branching following the hurricane; and future challenges credit unions may face, particularly in mortgage lending.
"I was encouraged to hear that the agency is taking steps to encourage credit unions to assist distressed members by allowing flexibility in meeting lending needs," said Gibardi. "This—paired with NCUA's commitment to have field staff recognize that members may also need flexibility in repaying those loans in the future—is exactly what credit unions need."
"Our meeting with Chairman Matz was very positive, and she appreciated the information we provided on behalf of the New York credit union community," noted Mellin. "I know she is eager to meet with the impacted credit unions in the months ahead for further discussion, and we at the Association will move forward with making that happen."
The Credit Union Association of New York has served as the trade association for the state's credit unions for 95 years. New York credit unions have assets of more than $53 billion and serve 4.5 million members. To learn more about the Association, visit www.cuany.org.
---