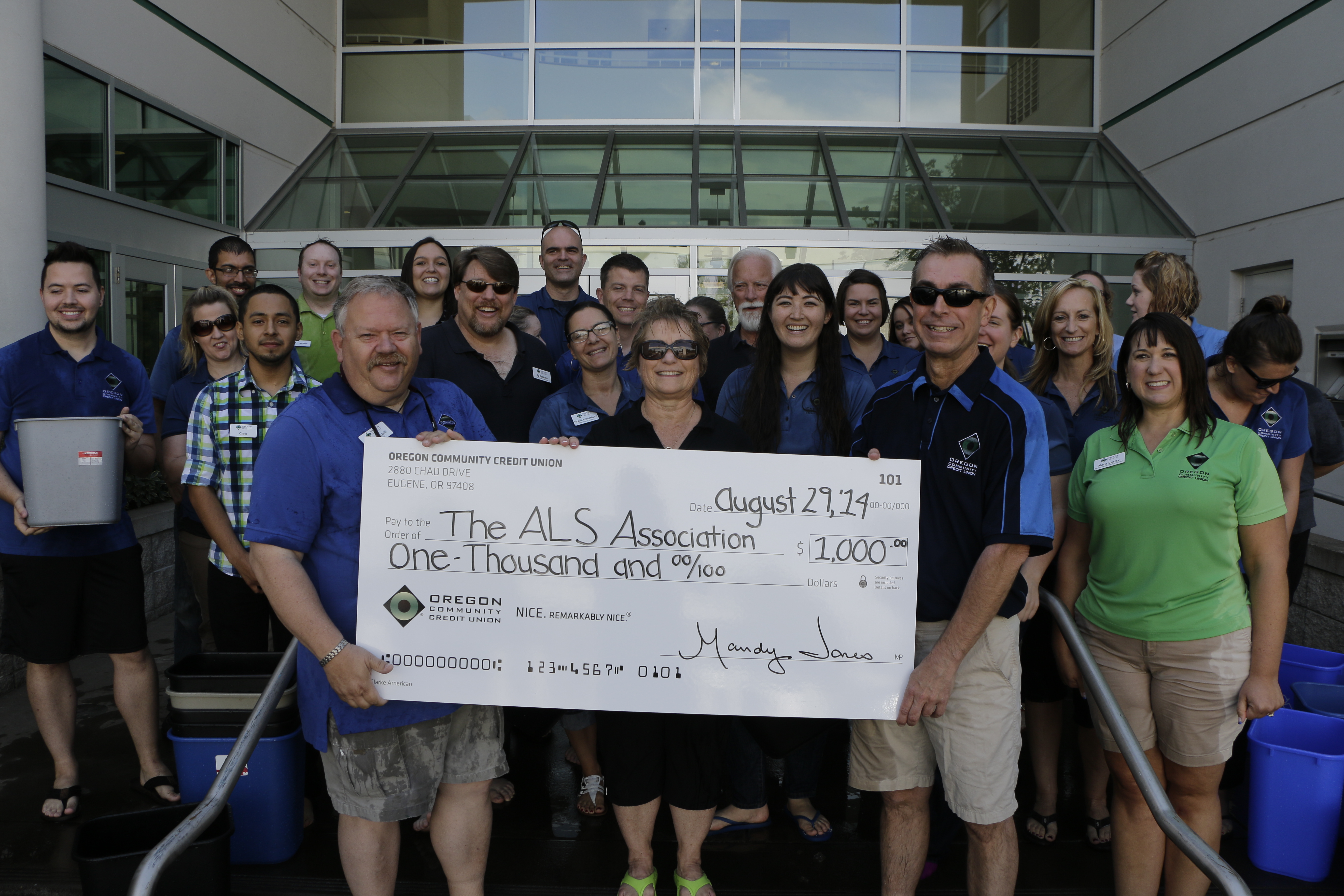 Oregon community credit union employees donate $1,000 to ALS association in memory of former CFO
EUGENE, OR (September 3, 2014) — Last week, Oregon Community Credit Union stepped up to participate in the Ice Bucket Challenge, the viral fundraising and awareness effort for ALS which asks individuals to either pour a bucket of ice water on their head or donate to an ALS charity of choice.  Participants then nominate other individuals to do the same within a 24-hour period.  At OCCU, employees chose both: a bucket of ice water and a donation! The organization-wide challenge started August 25th at the Mohawk Branch, when branch employees recorded dumping ice water on themselves in the parking lot of the branch before nominating two other OCCU branches and posting the video to the Oregon Community Credit Union Facebook page.  The challenge continued for the remainder of the week, with each of the nine OCCU branches participating.  Finally, last Friday, CEO Mandy Jones, Chief Financial Officer Ron Neumann, Chief Credit Officer Jerry Liudahl and the OCCU Corporate Office were nominated.
In their video, the Chiefs aimed to raise awareness for the disease which impacted them personally in recent years.  "ALS affects your neighbors, your friends, and your family," Liudahl explained in the video.  "Here at Oregon Community, our family was impacted when our former CFO, Russell Dennick, was diagnosed with ALS and tragically died a year ago at the age of 50.
"It's an awful, awful disease, and we have to find a cure," echoed Neumann.  "That's why the employees of Oregon Community Credit Union have decided to make a contribution…in an effort to make a difference in the lives of those friends and family that we've lost, and those who are suffering from it today."  Along with completing the challenge, OCCU employees donated $100 per participating branch to the ALS Association's Oregon and Southwest Washington Chapter, for a combined $1,000 donation.
As for whom Jones, Neumann and Liudahl chose to nominate, "Well, community is our middle name, so we're going to ask our OCCU members to step up and post their own Ice Bucket challenge videos to our Facebook page.  For everyone who does that…we'll donate $5 extra to ALS," challenged Jones.  Jones, Neumann and Liudahl then accepted their nomination – and a bucket of ice water – and were followed by 30 employees from the Corporate Office.  The video, made in memory of Dennick, was shared over 100 times over Facebook.
In all, 77 employees from the credit union volunteered to participate in the challenge, and over 200 donated to the cause.  The final video ended with a declaration and dedication: "We're OCCU and we completed the Ice Bucket Challenge.  This one's for you, Russell!"
Oregon Community Credit Union, founded in 1956, is a full-service financial institution providing checking, savings, certificates and money market accounts as well as mortgages, auto and home equity loans, and a full range of investment services. Oregon Community Credit Union operates nine branches in Eugene, Springfield and Salem. Membership is open to anyone who lives or works in Benton, Clackamas, Clatsop, Columbia, Coos, Crook, Curry, Deschutes, Douglas, Gilliam, Hood River, Jackson, Jefferson, Josephine, Klamath, Lane, Lincoln, Linn, Marion, Morrow, Multnomah, Polk, Sherman, Tillamook, Wasco, Washington, Wheeler, and Yamhill Counties in Oregon; employees of the State of Oregon and Bi-Mart Corporation; and members of the UO Alumni Association and current students at the UO.
---