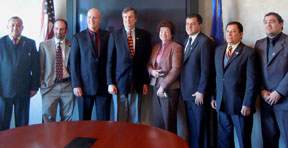 Paraguay Reps Turn to Minn. CUs for Regulatory Insight, Inspiration
ST. PAUL, Minn. – As Paraguay begins the process of overhauling its legal framework for the country's cooperatives, its credit unions are looking to Minnesota as a compass of regulatory oversight.
To assist in this regulatory reform, the Minnesota Credit Union Network (MnCUN) welcomed five credit union representatives from Paraguay to Minnesota on Oct. 27-Nov. 3 as part of an ongoing international exchange with that country's credit union association, Central de Cooperativas del Area Nacional Ltda. (CENCOPAN). The goal of the visit was to provide insight into Minnesota credit union operations and the state and federal regulatory system as credit union representatives in Paraguay begin to delve into reforming the country's cooperative law. During their stay, the visitors immersed themselves in U.S. credit union culture and learned from regulatory leaders.
In a meeting at the MnCUN office in St. Paul, the group talked with Minnesota Department of Commerce Credit Union Chief Examiner Carl Schwartz and National Credit Union Administration Regional Examiner Justin Burleson. In their questions for the regulators, the Paraguayans focused on the exam process, how regulators identify and resolve problems, the CAMEL credit union rating system and how the U.S. regulatory system is structured and supported.
"In Paraguay the regulatory structure is different. Level A [the largest] credit unions receive most of the regulatory oversight; most of the funding [from the government] goes to regulate them. The small credit unions receive less oversight," said Enrique Ojeda, a CENCOPAN Board Member and Board Chair of COFAN, a $20-million credit union that primarily serves the police department.
Other challenges the group mentioned included a lack of a deposit insurance fund for credit unions in Paraguay, the faster pace of growth for credit unions in the country compared to its regulatory system, and the lack of full monetary support from the federal government to regulators. Both Schwartz and Burleson said they were impressed by the Paraguayans inquisitiveness and in-depth questions.
"At the Department of Commerce, we try to encourage credit unions to be proactive and work with them to resolve problems. Smaller credit unions, in particular, look to their regulator for advice on various issues." Schwartz said.
As part of their visit, the international credit union representatives also visited several credit unions in the state, including Hiway Federal Credit Union and St. Paul Federal Credit Union in St. Paul, SouthPoint Federal Credit Union in New Ulm, and US Federal in Burnsville. In these more personal interactions, the host credit unions presented information about their technology developments and the movement to mobile products, operational efficiencies, collections practices and regulation management.
"This week has been very productive," said Dejesus Agustín Brítez, a CENCOPAN Board Member and Board Chair of COOPERSAM, a $15-million credit union that serves military members and the VA hospital. "We have learned a lot of best practices that we will be going back with, and we will be looking at new ways CENCOPAN can help its credit unions."
This international visit was part of an ongoing exchange between CENCOPAN and MnCUN that was established in 2004 through the World Council of Credit Unions (WOCCU). Sparked by this partnership with MnCUN, the credit union association in Paraguay has led the charge to update the country's 18-year-old cooperative law. This law is now being reviewed and redesigned by WOCCU and Paraguay's regulator for cooperatives, Instituto Nacional de Cooperativismo (INCOOP).
"We want to ensure that this partnership continues to be beneficial, to CENCOPAN and Paraguayan credit unions, as well as to MnCUN and the credit unions we represent," said MnCUN President & CEO Mark Cummins. "I look forward to future exchanges in which we are able to coordinate focused visits to dig deeper into topics and help Paraguay's credit unions make headway in specific areas. Our goal is to structure our time together to be as beneficial as possible."
The Minnesota Credit Union Network is an organization representing the state's 136 not-for-profit cooperative credit unions serving more than 1.5 million member-owners in Minnesota. For more information, visit www.mncun.org.
---