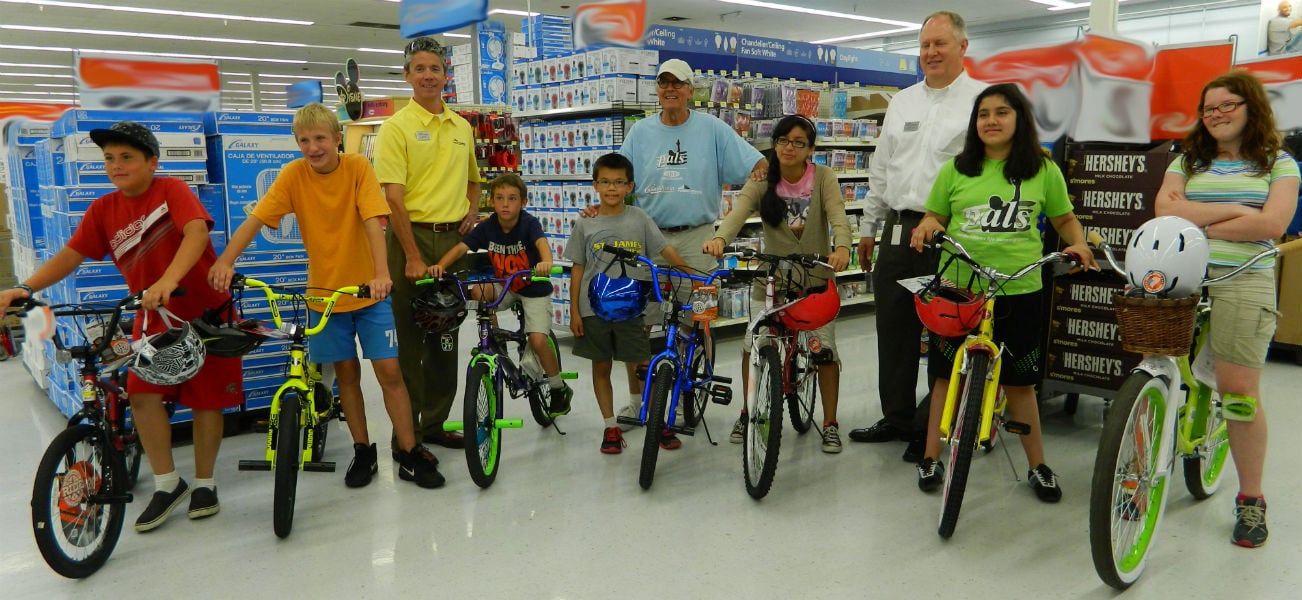 Purdue Federal provides bikes, financial literacy to Purdue Athletes Life Success Campers
WEST LAFAYETTE, IN (July 9, 2014) — Seven children cruised the bicycle aisle with Purdue Federal Credit Union (Purdue Federal) President and CEO Bob Falk, and Vice President of Information Technology Matthew Lerzak the afternoon of July 8 at the West Lafayette Walmart Store. The children chose new bicycles, helmets and bike locks as part of Purdue Federal's annual donation to the Purdue Athletes Life Success (PALS) camp.
This year the credit union, Matthew Lerzak and his wife Paula, gave bicycles to four girls and four boys who had attended camp for the previous five days. Recipients were randomly selected based on their good attendance, which is part of the four pillars of character—kindness, fairness, courage and caring—emphasized during PALS. Purdue Federal is proud to support this initiative and recognize campers for their achievements.
As part of Purdue Federal's commitment to youth financial literacy, the credit union's staff also taught PALS campers about budgeting and setting savings goals through a variety of age-specific, fun exercises and games during camp.
About Purdue Federal
Purdue Federal Credit Union (Purdue Federal) was founded as Purdue Employees Federal Credit Union (PEFCU) on the Purdue University campus in 1969. In December 2010, PEFCU acquired Members United Federal Credit Union through a merger. At the time of merger, the credit union changed its name to Purdue Federal to better reflect its membership base, which includes students, faculty and staff, and communities where Purdue University and its regional campuses operate. Purdue Federal is a member-owned financial cooperative with more than 60,000 members nationwide and assets at more than $775 million.
Photo:
Purdue Federal, and Vice President of Information Technology Matthew Lerzak and his family teamed up to provide bikes to eight PALS campers. The kids went shopping with our CEO, Bob Falk, and Matthew Lerzak.
---