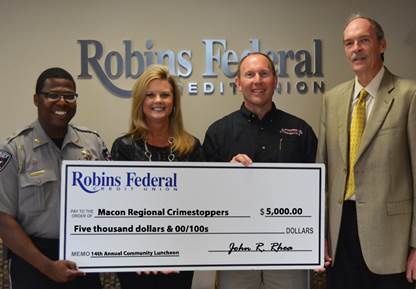 Robins Federal Credit Union supports Macon Regional Crimestoppers
WARNER ROBINS, GA (May 29, 2015) — Robins Federal Credit Union recently presented Macon Regional Crimestoppers with a $5,000 donation to the 14thAnnual Community Luncheon. This event will be held on Monday, November 16th and the funds raised help support payouts for tipsters who assist law enforcement with the arrest of criminals.
"We really appreciate the work Crimestoppers is doing and are proud to support this organization. They are making a huge impact on our community," said John Rhea, CEO/President of Robins Federal Credit Union.
Robins Federal Credit Union is a local non-profit financial cooperative with nineteen branches in central Georgia. Robins Federal currently provides financial services to over 160,000 members, with assets exceeding $2.0 billion. Membership is open to anyone who lives, works, worships or attends school in the 16 counties Robins Federal serves.
Photo caption: John Rhea, CEO/President and Dee Dee Cote, SVP of Administration with Robins Federal Credit Union presents a check to Macon Regional Crimestopper's Sgt. Chris Paul, Executive Director and Warren Selby, Board Chairman.
---