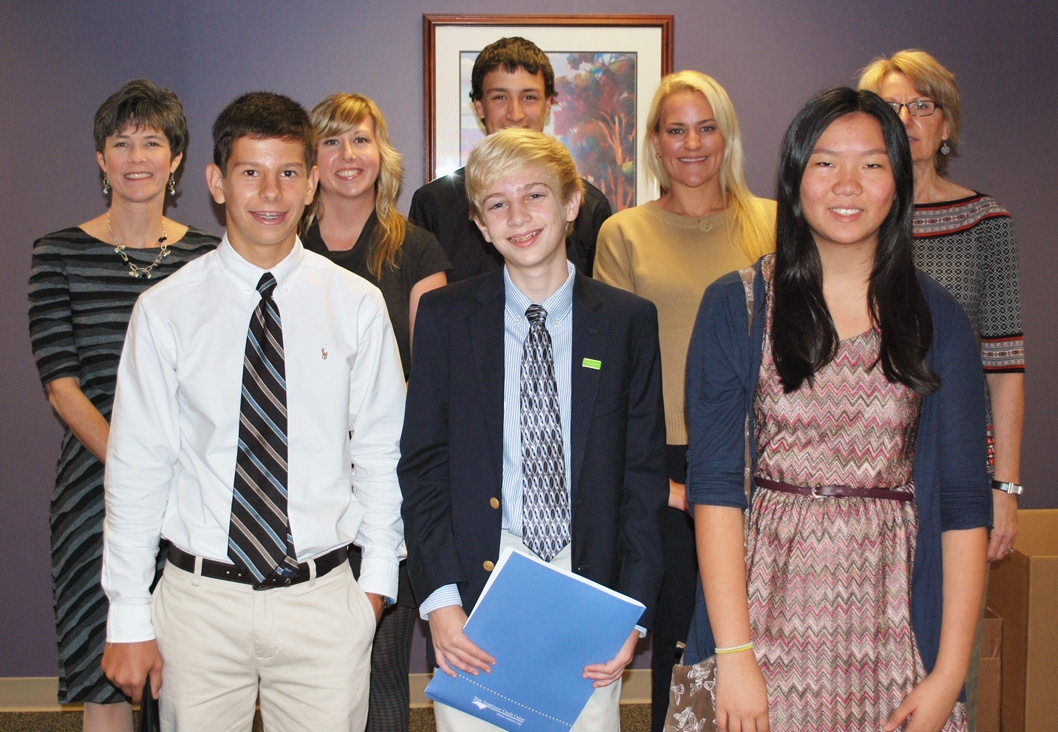 SECU Hosts Sanderson High School Students Through Job Shadowing Program
Raleigh, NC – Four students from Sanderson High School recently had the opportunity to meet with State Employees' Credit Union (SECU) management and operations staff for a unique job shadowing experience.  Through the High School's Academy of Finance (AOF) program, the ninth graders met with SECU's Loan Servicing and Education Services departments.  Based on their career interests, the students learned about either    the daily operations of loan maintenance or graphic design/desktop publishing, along with public relations.  Students were able to interact with SECU staff to ask questions regarding the not-for-profit cooperative, day-to-day responsibilities, and educational requirements for various Credit Union jobs.  SECU's participation in student job shadowing helps promote career awareness and engages students with professionals in business settings, giving them a better perspective of what is needed to prepare for a successful career.
SECU is a strong and consistent advocate of education.  Through partnerships with the NC Department of Public Instruction and the NC Business Committee for Education, SECU supports the annual Students@Work initiative, which also focuses on job shadowing in the workplace.  The Credit Union reached over 11,000 students statewide during the 2012 Students@Work Week.  In addition, SECU personnel are enthusiastic volunteers for NC's Future Business Leaders of America (FBLA) and Distributive Education Clubs of America (DECA), providing hundreds of staff volunteers to conduct financial workshops and serve as State Competition judges.  SECU Foundation, funded solely by Credit Union members, also monetarily supports education with $4 million in annual scholarships.
Mark Coburn, SECU Senior Vice President of Loan Servicing and 10-year Academy of Finance Board member, comments, "Job shadowing provides a great opportunity to interact with talented young students who share similar career interests.  These students are able to see first-hand how SECU employees are using their education on the job.  We are proud to be an advocate and resource for NC educators and students to help them focus on the education and skills needed to be successful in today's workplace."
About SECU
SECU is a not-for-profit financial cooperative owned by its members.  SECU has been providing the employees of the State of North Carolina and their families with consumer financial services for 75 years.  With close to 1.8 million members, SECU provides services through 245 branch offices, nearly 1,200 ATMs, 24/7 Contact Centers and a website, www.ncsecu.org.
---