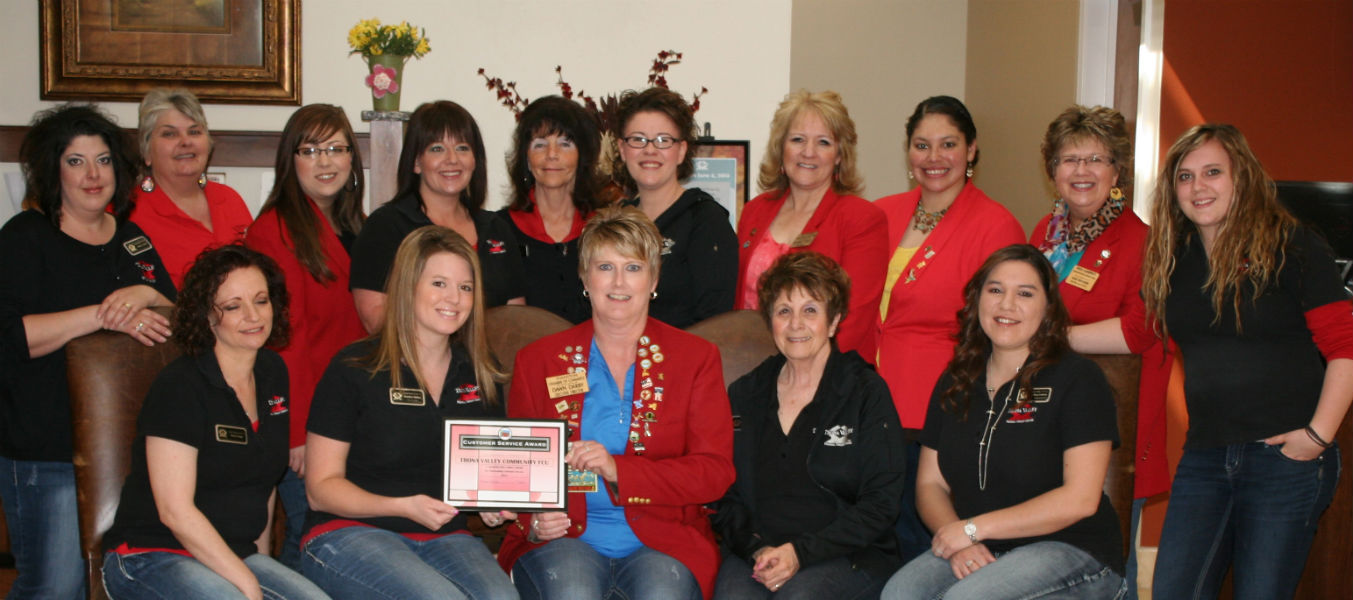 Trona Valley Federal Credit Union receives Chamber's Red Carpet Award
GREEN RIVER, WY (June 2, 2014) — Trona Valley Federal Credit Union has been awarded the Evanston Chamber of Commerce's Red Carpet award for the first quarter of 2014 in recognition of their outstanding customer service. The award was presented to employees of the credit union on May 20 by the Chamber's Red Carpet Ambassadors.
"If we had to choose one word to summarize Trona Valley's brand, it would be service," said Shandee Welling, Evanston Branch Manager. "We stand behind our value proposition, Trona Valley is a caring partner dedicated to your financial success. We care about the financial well-being of our members and the communities in which we live."
The Chamber's quarterly award winners are automatically eligible for the annual award, which will be presented in 2015 at the annual Chamber Awards banquet.
"The Evanston Chamber of Commerce and the Red Carpet Ambassadors would like to thank Trona Valley Federal Credit Union for the outstanding job they do in representing the community," said Dawn Darby, Director of the Evanston Chamber of Commerce.
About Trona Valley Federal Credit Union
Trona Valley Federal Credit Union serves any individual who lives, works, worships, or attends school in ten counties: Sweetwater, Sublette, Lincoln, Uinta, Carbon, and Teton Counties in Wyoming and Rich, Morgan, Summit, and Daggett Counties in Utah.  In 1963, FMC Employees Federal Credit Union was formed. In 1989, a merger with Stauffer Big Island Federal Credit Union created Trona Valley Federal Credit Union. The member-owned, not-for-profit financial cooperative is committed to providing for the financial success of all members. We offer competitive products such as checking accounts, loans, mortgages, online banking and more. We are a part of the Shared Branching Network. For more information, visit http://www.tronavalley.com.
---