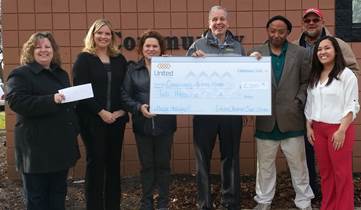 United Federal Credit Union gives $2,000 to community action house for its annual holiday food drive
HOLLAND, MI (December 19, 2013) — United Federal Credit Union (UFCU) has donated $2,000 to Community Action House (CAH). The funds will be used to purchase items for holiday dinners and necessities throughout 2014 for those in need in the Holland/Zeeland area.
UFCU has collaborated with CAH for several years, helping to ensure area residents at the poverty level have the enjoyment of a nice holiday dinner. CAH also provides daily essentials to families throughout the year, which include non-perishable food, fresh vegetables, personal care items, household supplies, clothing, shelter, and assistance through other non-profits.
Caring for more than 2,500 families in the area, CAH Resource Manager Denny Oosterbaan emphasized that its mission "is to assist people, to get them out of poverty and into prosperity." This holiday season, CAH is hoping to collect 150,000 pounds of food and 2,000 turkeys for those in need.
"CAH so appreciates our partnership with UFCU and are privileged to serve area residents who count on us during these difficult days," said Oosterbaan. "Together, we are providing both help and hope."
"Caring for others is also a core philosophy for us," said UFCU Branch Manager Sarah Unema. "It aligns with our vision of community support, helping those less fortunate and making our cities a better place to live."
Unema first learned about CAH when she became Branch Manager of Holland South in 2009. "The contributions of CAH and Denny's team are wide-ranging and impact countless people here in Holland."
"I'm also proud to be part of UFCU, a company who supports so many local causes," continued Unema. Each team member knows the credit union steps to the plate for those in need, especially during the holiday season.
UFCU has numerous charitable initiatives to help make the communities they serve a better place, including a formal corporate donation plan and a staff-funded program, the UFCU Charity Committee. Both are designed to help those less fortunate, and deepen the bond the credit union has with its Members, business partners, friends, and neighbors.
The Charity Committee is funded 100% by employees who donate $2.50 per paycheck. Employees at any level can present suggestions to help their communities where they see a specific need. The donation to CAH, for example, was one such request, funded by UFCU employees. "When staff has a say in how their company is run, and see their efforts pay off, it creates loyalty and strengthens all of our communities," added UFCU CEO Gary Easterling.
"We're proud to be here, to be a resource for Members and for agencies like the Community Action House," concluded Easterling. "It's part of our heritage as a credit union to ensure everyone has fair access to the necessities and a quality life."
To make a donation to the CAH, contact Denny Oosterbaan at (616) 392-2368.
About UFCU
United Federal Credit Union has served its Members since 1949 by helping them to build a sound financial future. UFCU consists of more than 120,000 Member/owners worldwide, and manages assets in excess of $1.57 billion. Its corporate offices and main branch are located in St. Joseph, Mich., with additional branches in Arkansas, Indiana, Michigan, North Carolina, Nevada, and Ohio. UFCU has been named the Michigan Credit Union League Outstanding Credit Union of the Year 2013. UFCU has also been named the National Federal Credit Union of the Year 2013 by the National Association of Federal Credit Unions.
About the Community Action House
Since 1969, CAH has served the under-privileged in the greater Holland/Zeeland area. Its mission is to provide area families and individuals with food, clothing, shelter, and the opportunity to build the necessary skills to achieve a stable and prosperous life. It prides itself on many core life-sustaining values and is a team-oriented, dedicated, professional, and culturally-sensitive agency. To learn more or to make a donation, visit http://www.communityactionhouse.org/.
---