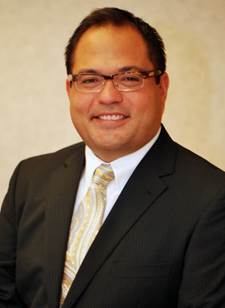 United Federal Credit Union VP advances to final round of Top Executive Competition
FORT SMITH, AR (October 3, 2014) – United Federal Credit Union (UFCU) is proud to announce that Market Vice President Noel Sanger has advanced to become a top five finalist in the 2014 Credit Union Executive's Society's (CUES®) Next Top Executive challenge.
Sanger, who is the Market VP in UFCU's Arkansas region, and the other four finalists were selected to move on in the competition by a panel of judges who reviewed earlier video submissions and blog updates authored by the entrants about projects they are championing to strengthen and promote the credit union industry.
Sanger's project furthers his platform to motivate and engage employees by incorporating inspiration, advocacy and mentorship into the workplace in a manner that aligns with UFCU's strategic plan, and enhances the reputation of the credit union industry as a whole.
Sanger's dedication to employee development has been a strong point in his career. UFCU was recently recognized by Arkansas Business as one of the 2014 Best Places to Work in Arkansas, a designation largely stemming from the results of an employee satisfaction survey and community involvement. In addition to being named one of the Best Places to Work, accolades for Sanger and UFCU's Arkansas region include:
Partner in Education Award 2014 – Fort Smith School
United Way Partner of the Year 2014 – United Way of Fort Smith
Boss of the year 2014 – Fort Smith Jaycees
"I am committed to my staff, my community and to the credit union industry," Sanger said. "On a daily basis I tell the story of the credit union to government officials, business leaders and potential members. We are a cooperative that focuses on people helping people."
The winner of CUES® Next Top Credit Union Executive challenge will be selected based on an additional video production (view Noel's latest video here), social media interactions, a presentation to CUES' CEO/Executive Team Network™ and voting by the public, November 3-4, on the CUES web page.
The judges are already taking social media interactions into account. Anyone interested in supporting Sanger can visit his social media sites and interact:
Facebook likes/comment/share
LinkedIn share
Blog like and comment on Noel's profile page
Blog like and comment on Noel's project page
Blog like and comment on Noel's leadership philosophy
Blog like and comment on Noel's philosophy on advocacy
Twitter retweet
The winner will be announced on November 5, 2014.
About UFCU
United Federal Credit Union has served its Members since 1949 by helping them to build a sound financial future. UFCU consists of more than 120,000 Member/owners worldwide, and manages assets in excess of $1.57 billion. Its corporate offices and main branch are located in St. Joseph, Mich., with additional branches in Arkansas, Indiana, Michigan, North Carolina, Nevada, and Ohio. 
About CUES®
The Credit Union Executives Society (CUES®) was founded in 1962 on the firmly held principle of "cooperation among cooperatives" not only for credit unions but also for credit union managers. Since the start, it has grown into an organization dedicated to providing credit union professionals, directors and suppliers the resources they need to reach their greatest potential. CUES® focuses its passion on being the trusted, single source for its members' professional development needs.
---