What credit union leaders should learn from Simone Biles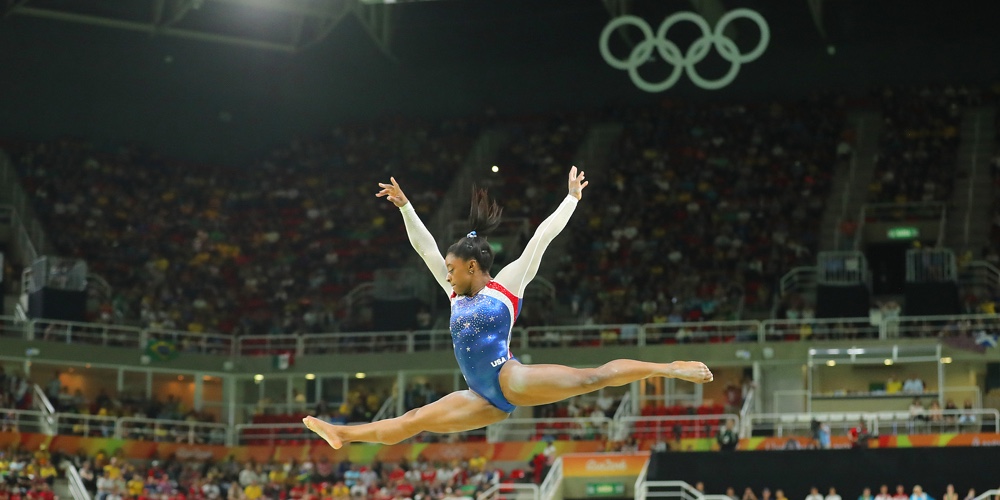 At my house, the Olympics are a big deal. We never miss the opening ceremonies and for two weeks straight sports are all you see on our TV. (Not that I'm complaining!)
This year, of course, was a little different.
Conversations about mental health dominated much of the games as Simone Biles withdrew from most of the competition due to mental health. Her brave decision and remarkable sportsmanship set the world ablaze with conversations about mental health and how to prioritize it.
Mental health struggles are not unique to sports, as these workplace statistics from Mental Health America prove:
90% of employees report that workplace stress affects mental health
80% of employees feel emotionally drained from their work
56% of employees spend time looking for a new position
As credit union leaders, talking about mental health can be tricky.
You care deeply about your employees and want the best for them, but you also have an organization to run and your members' finances to steward. Our movement is built around "people helping people," yet when it comes to mental health, credit union leaders sometimes feel stuck between helping employees and helping members.
How do you walk that line?
Biles provided a masterclass in walking that line with the leadership she showed during the Olympic games. Here are three things we should learn from her example, plus how to practically apply it our credit unions:
Honesty starts at the top.
If you're an executive at your credit union, encouraging honesty about mental health starts with you.
Most executives are notorious for "putting on a smile" in the name of leading their teams and setting a positive example. The reality is C-Suite executives often face more anxiety and stress than their employees. Oracle reports that since the pandemic, executives have been 18% more likely to struggle with serious mental health issues than their employees.
The world called Biles the "GOAT." She was at the top of her game and the team's captain. Yet she was the first to acknowledge she was cracking under the pressure.
Here is what leading with honesty might look like for you at your credit union:
Say "me too" when an employee opens up about a personal struggle
Take a day off for your own mental health and telling your team why 
Share from a high level what stress or anxiety you are facing and how you are coping with it
It's important to remember that you don't have to give full detail in order to be leading with honesty. In fact, you shouldn't. Simply acknowledge that you struggle too and show what you are doing to take care of yourself.
Takeaway: Lead with the honesty you want your employees to have.
Keep the goal in mind.
Many executives think focusing on mental health means "sitting around and talking about our feelings." That's not true. 
Rather, it means giving your employees the space and resources they need to take care of themselves so they can deliver what you've hired them to deliver.
Business coach Donald Miller famously uses the analogy of an airplane to talk about business. The body of the airplane is your overhead costs, including your team and their salaries. If the body gets too big in comparison to what you're brining in from marketing and product revenue (what Miller calls the "wings" in his analogy) then the airplane will crash. You cannot focus so exclusively on the people inside the airplane that you forget to keep the airplane flying. 
Team USA didn't give up when Biles withdrew. They had a goal to accomplish. They rallied around Biles, allowed her to make the decision that was best for her, and then went on to win a medal.
At your credit union, this might look like:
Checking in with employees one-on-one to ask if their portion of the strategic goal is reasonable 
Asking how you can help when you see small goals not being met, before the entire strategic goal falls behind
Celebrating wins of every kind
Takeaway: Incorporate employee goals with business goals.
Put the right people in the right seats.
Certain roles (like leading the Olympic all-around) are more difficult when you're struggling with mental health. 
For example, if a teller is struggling with deep depression, smiling at a member might require an excruciating amount of effort. Rather than immediately letting this team member go, ask yourself, "Are there other roles we could find for this person?" 
The seat Biles needed to be in this Olympic games was that of a coach and a cheerleader. With her in that seat, Suni Lee was able to win the gold medal.
Maybe something similar is happening at your credit union:
A teller is miserable on the front lines, but she actually has everything it takes to be a star loan processor 
By only seeing the poor performance of that teller, you miss that the teller next to her has the chops to be your next branch manager
Takeaway: Find where you need to shuffle seats for peak performance and peak health.
A recent study found that 80% of workers would be willing to leave their current job and go to a job that more prioritized mental health. People want to work for companies who care. People also want to work for companies who achieve goals. And yes, it is possible to have both.
The reality is, when you put these steps into place, you're not just taking care of your employees. You're taking care of your brand.
Mark Arnold is an acclaimed speaker, brand expert and strategic planner helping businesses such as credit unions and banks achieve their goals with strategic marketing insights and energized training. Mark ...
Web: www.markarnold.com
Details