Why credit unions are adopting texting in record numbers
Publisher's Note: CUInsight is hosting a free webinar Wednesday, March 24th titled, 5 Ways to Transform Your Credit Union with Texting. We hope you'll join us! Register here.
The growth in credit unions adopting 2-way texting technology has never been higher. 
The key driver of texting adoption is the simple need to effectively communicate with members. But it's where the texting is being used in credit unions that is most telling. Typically, credit unions will implement the technology within various business units and tailor the system to their particular needs.
One such example is using two-way business texting to communicate with members who have missed loan payments to help reduce delinquencies.
This was the initial use-case for Baylor Health Care System Credit Union that used texting to help minimize delinquencies and saw success in all categories, including driving down their over-60-day delinquency numbers by 25% across 60 days. 
Another common line of business to implement business texting is loan sales departments that wish to accelerate the loan process to create growth. 
Texting holds tremendous value for loan departments in that the average person has zero unread text messages in their in-box and will respond to a text message from a business within an hour (State of Texting 2019). Immediate responses from members significantly reduces loan processing times.
When Towpath Credit Union implemented texting on existing business phone numbers, they improved their loan closing ratio by 10-15% and grew to #1 in loan growth in their peer group of credit unions in Ohio.
Credit unions must build trust to grow and retain members and texting holds a key part in that.
Another interesting statistic from the 2019 State of Texting report was that 58% of consumers said they've tried to reply to a missed call via text. This means that members are already trying to text their credit unions and if those phone numbers aren't able to receive those texts, then the members are having a poor customer experience.
Furthermore, in Zipwhip's, 2021 State of Texting report, we learned that over half (51%) of consumers trust texts more than phone calls and emails for important messages.
Erin Wilson, Credit Union Senior Account Executive at Zipwhip, states:
Texting has become an integral part of credit union work-flows and communication strategies. It is now being used to facilitate appointments and curbside lending in addition to the traditional use-cases of creating loan growth and reducing delinquencies. What I have found is that texting accelerates every part of the conversation with members. This ultimately leads to loan growth and reductions in charge offs and delinquencies for the credit union.
Galli Davis, Credit Union Lending and Sales Training Specialist at ASG Results states:
"Once a credit union unleashes the power of texting they will realize a wealth of benefits. When you make it easy, convenient, and efficient to do a loan with you, and offer sound financial advice, you will have a member for life, and they will refer business to you. Texting creates efficiencies, convenience, a positive experience, and loyalty.  This creates growth."
Don't forget to join CUInsight and Zipwhip for our free webinar titled 5 Ways to Transform Your Credit Union with Texting, on Wednesday, March 24th. Register yourself and a colleague here.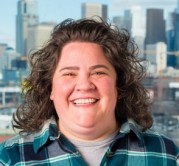 Erin Wilson is an Account Executive for Zipwhip, the business that pioneered business texting technology. Her focus is on improving communication strategies for Credit Unions. She specializes in communication trends ...
Web: https://www.zipwhip.com
Details